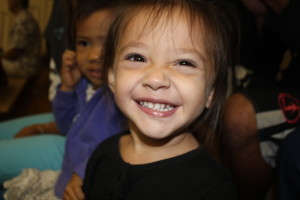 My 2 year old is learning and discovering new things each and every day.  It's great to be there as she reaches a new milestone.  One of the biggest accomplishments for every little one, is their first flush!  Potty training comes easy for some while it can be a challenge for others.  My first daughter had her first flush at around 18 months.  My youngest, now 28 months old, is not quite there yet.  Although we did have a couple successful attempts when I put her on the potty, it isn't the norm.  I do believe it's time we get more serious about it, which is why I'm excited to be a part of Pull-Ups "First Flush' Ambassador program.  Since receiving some Pull-Ups to try out, I've showed them to my daughter and showed her how to get them on and off. I talked to her about going to the potty, but she hasn't done it yet.  She has been wearing them, and I believe it's only a matter of time!
Coming up on January 29th Pull-Ups will be holding a First Flush Celebration in Times Square.  This wonderful celebration will help parents and kids kick-off potty training the right way!  If you're able to attend, you'll have the chance to celebrate with a giant potty, live performers, and  a light up billboard.
Would you like a chance to have your child featured on the light up billboard during the first flush celebration?  Pull-Ups is asking parents to share their childs first flush celebration moment.  Share your story or a photo that shows celebration of the first flush.  You can submit your entry here.  You'll also be entered to win a family trip to a world famous destination in Orlando!
Do you have a little one who is working towards their first flush?  What has your experience been like?  It really is different for each child, but when they finally reach that accomplishment, it is definitely a big deal, and something that really should be celebrated!
Disclosure:  I participated in a campaign on behalf of Mom Central Consulting for Pull-Ups. I received product samples to facilitate my review and to host a party. I received a promotional item as a thank you for participating