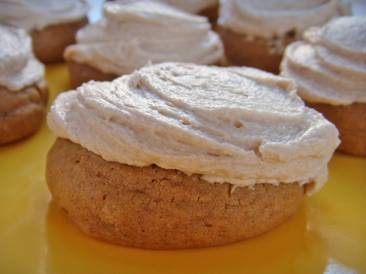 Disclosure:  I am sharing this tasty recipe courtesy of COOKINA
Fall is here!  When I think of Fall, I think Pumpkins!  Last year, I came up with a recipe for Pumpkin Oatmeal Chocolate Chip Cookies.  They are delicious.  COOKINA recently provided me with their Pumpkin Spice Cookie recipe to share, and since I love pumpkin desserts, I knew this one one I should definitely share with all of you.  I hope you enjoy!
Ingredients:
1 package of cream cheese (8 ounces)
1 ½ cups packed brown sugar
½ cup sugar
2 eggs
1 cup canned pumpkin
1 teaspoon vanilla extract
3 ½ cups all-purpose flour
1 ½ teaspoons pumpkin pie spice
1 teaspoon baking soda
1 teaspoon salt
½ teaspoon baking powder
Frosting:
2 cups confectioners' sugar
¼ cup butter, melted
1 teaspoon vanilla extract
2 -3 tablespoons boiling water
2 cups chopped pecans (optional)
Directions:
In a large bowl, beat the cream cheese and sugars until smooth and mixed. Add eggs (one at a time) mixing well after each. Beat in pumpkin and vanilla. Combine dry ingredients; gradually add to pumpkin mixture and mix well.
Place your COOKINA Cuisine on your cooking sheet and drop rounded teaspoons of batter about two inches apart. Bake at 350 degress for 10-12 minutes or until golden brown.
For frosting, in a small bowl, combine the confectioners' sugar, butter, vanilla and enough water to achieve frosting consistency. Frost cookies (once they have cooled) and sprinkle pecans if desired.