Disclosure:  I received this product for review purposes.  All thoughts and opinions are my own.
Quick, easy, and healthy.   Those are three words that come to mind when I think of a breakfast to feed my family on busy weekday mornings.  I've found the perfect breakfast food for those busy, hectic mornings.  Modern Oats Oatmeal.
Modern Oats is not your average oatmeal.  Unlike other similar products on the market, Modern Oats is packed with all-natural ingredients.  In each serving of Modern Oats, you'll find whole rolled oats, antioxidant rich superfruits and omega-3 rich nuts and seeds.  It's a great source of protein and dietary fiber.  Modern Oats Oatmeal is definitely an excellent choice for starting off your day.
Not only is it a healthy breakfast, it's also very convenient and easy to prepare.  It comes packaged in a recyclable 2.6 ounce cup.  Perfect for taking on the go.  All you do is add some hot water, wait three minutes, stir, and you're good to go!  So easy, and very tasty too.  I've sent it with my hubby a few mornings.  He gets up early, and usually isn't hungry before he leaves, so rather than eating at home he grabs a bite on his way to work.  He often gets a donut or another unhealthy pastry from the bakery.  With Modern Oats I can pre-make the oatmeal right before he leaves, put on the cover, and he takes it to eat on the go.  Not only is he getting a healthier start to his day, it saves time and money as well.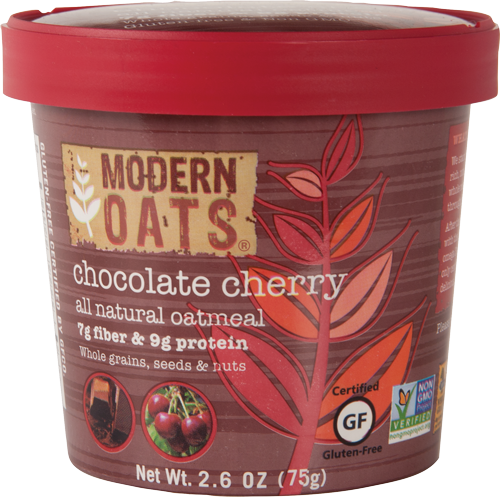 Modern Oats Oatmeal comes in 6 superfood flavors including Apple Walnut, 5 Berry, Goji Blueberry, Mango Blackberry, Chocolate Cherry, and Nuts + Seeds.   I've tried them all, and while they're all very good, I can't help but love the Chocolate Cherry!  Add chocolate to anything and I'm sold.   I think all the flavor combinations are really great and unique. As I said earlier, this is certainly not your average oatmeal.  It's so much more.  It's all-natural, non-GMO certified, gluten-free, sodium-free and cholesterol-free.  It's such a healthy breakfast option.
If your family is anything like mines, I'm sure there are days where you just don't have time to cook, sit, and eat breakfast.  For us, we have nice sit-down breakfasts on the weekends, but our weekday mornings are normally rushed.  It's nice to know there are ways to make our mornings go a little smoother without having to feed our families overly processed foods, which may be convenient, but not healthy.  Give Modern Oats a try and let me know what you think.  They are sold in stores and can also be purchased online. Get a pack of 6 for $21.00.