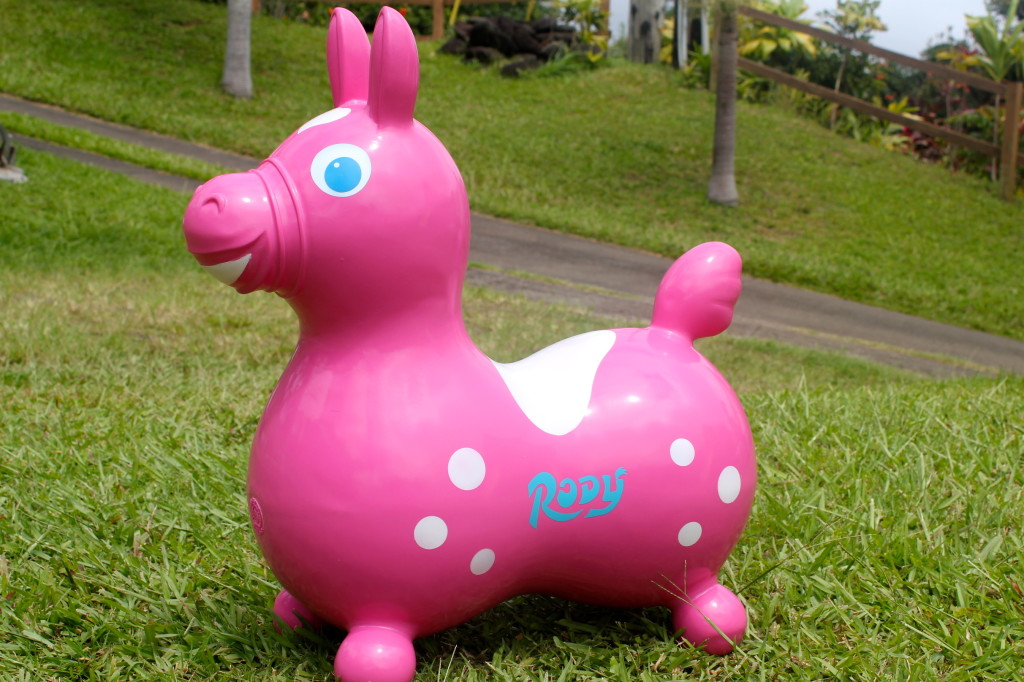 Rody is an adorable bouncy horse made in Italy.  He comes in a variety of great color choices.  I had a hard time picking a color as there's so much to choose from.  I asked my 5 year old for help because I couldn't decide if I preferred the pink or lime green.  She chose pink.
I was shocked when Rody appeared at my door just two days after placing my order.  Being that I live in Hawaii, I never expect to receive my items that fast!  It's a big plus for Red Wagon Toy Company, as I feel fast shipping is a big part in choosing which companies I purchase my items from.
Rody is absolutely adorable in person.  He or "she" (I've been calling Rody "He", and my daughter is constantly correcting me saying SHE's a GIRL because she's pink!)  Is made out of a very strong latex free vinyl.   The box states that Rody can hold up to 300 pounds.  Rody really appears to be indestructible!  Rody is also light enough for my 21 month old to carry.
After I took the Rody horse out of the box, it was time to inflate it.  I would recommend purchasing the available pump, as it is not included with Rody.  I had Rody blown up and ready to go in about a minute, much faster than I had expected.
The first thing my 21 month old daughter did was take the pump and try to inflate Rody even more!  It was a pretty funny sight.  She eventually got on, but not for long as she had a fever and wasn't feeling well.  She did have a hard time getting off of Rody.  She couldn't get her leg over and ended up falling on her side.  Luckily, it isn't a high fall at all, and she didn't get hurt.  The maximum inflated height from floor to saddle is 12 inches.  According to the box, Rody is recommended for children ages three and up.  However, I don't see Rody being a serious danger for children under three.  In fact, I think it's the perfect toy for active two year olds!  The website does say Rody is recommended for 2-4 year olds.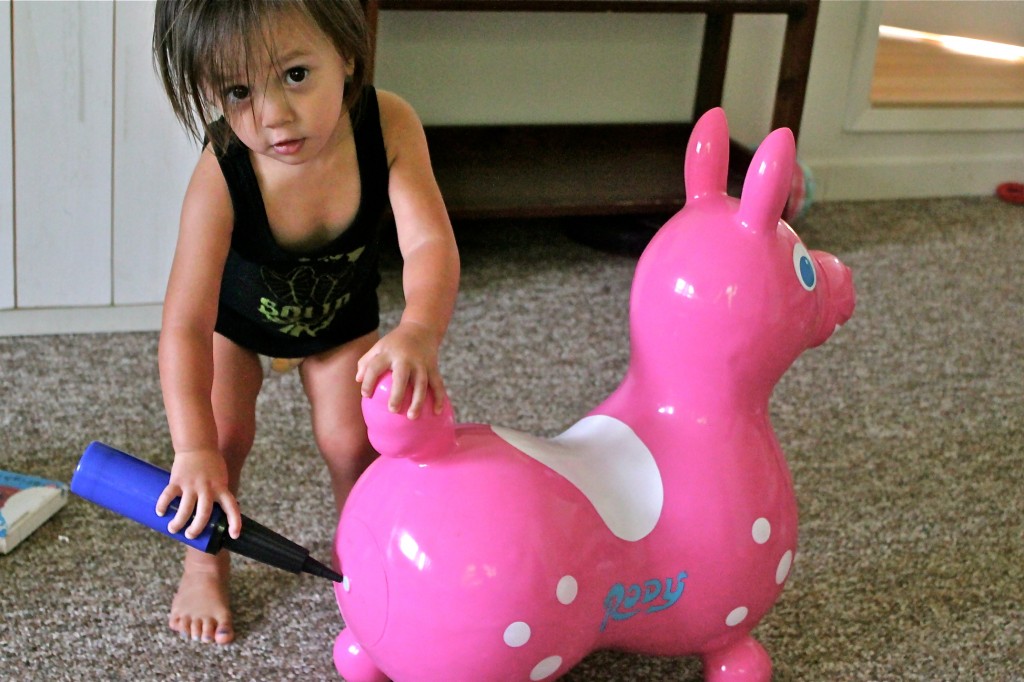 I would highly recommend using Rody in an open space away from any tables or other furniture as it is a bouncy toy!  My 5 year old loved Rody.  But, as soon as she got on, her little sister tried pulling her off saying "mine, mine, mine".  She was able to bounce up and down easily, and the huge smile on her face proved just  how much fun she was having!  Rody's ears are perfect for grasping, and makes holding on easy.  Rody is a great toy for getting all the extra energy out, especially when they're cooped up inside on cold and rainy days.  It is said that Rody is great for developing balance and coordination skills, and I truly agree.  The girls have also been using Rody as a chair while they're watching TV.  I imagine he is pretty comfortable to sit on!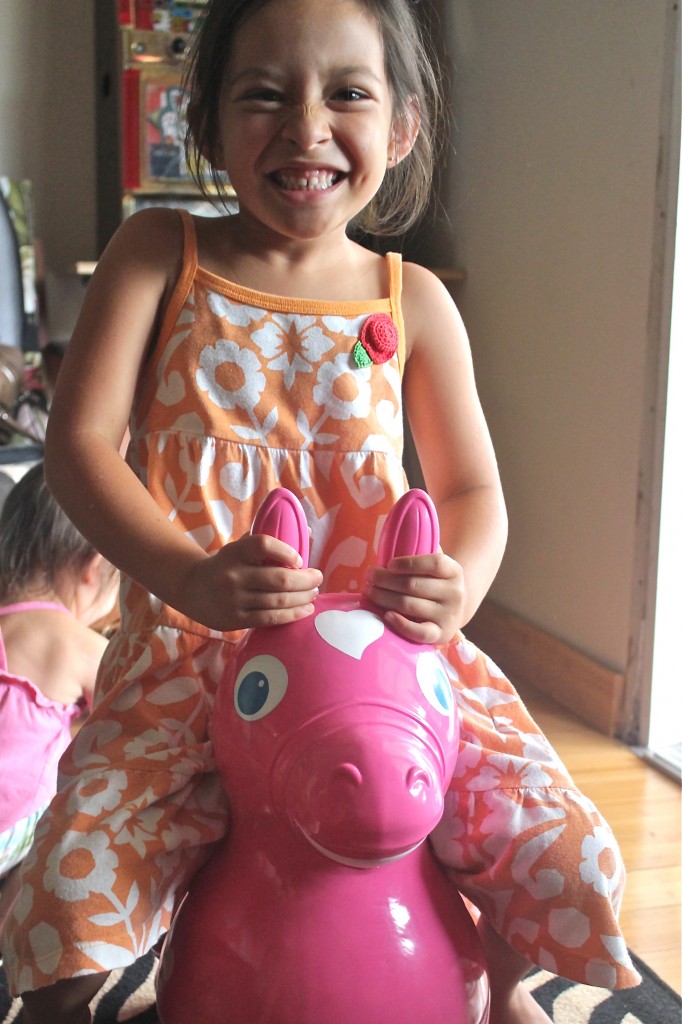 There is an optional base that you can get for your Rody horse.  It turns Rody into a rocking horse, which I think is pretty neat and would be a great option for the younger kids.
All in all I think Rody is a great toy!  It's one of those toys that will be used for years and is sure to stand the test of time.
You can find Rody at Red Wagon Toy Company  as well as RodyToy.com.  Rody Toy is a part of Red Wagon Toy company.  You may also want to check out HippityHopBall.com and radioflyertoy.com for other great toys.  They're all a part of Red Wagon Toy Company.
**Red Wagon Toy Company is offering all readers of Livin' The MOMMY Life 10% off purchases made at Red Wagon Toy Company, RodyToy.com, HippityHopBall.com and radioflyertoy.com
Coupon Code:  LTML10   Valid through 7/31/2012
And Now for the GIVEAWAY…
1 of you will WIN a Rody Horse in any color you choose!  Enter using the rafflecopter below.  Giveaway ends July 31st. Please be sure to complete the entry BEFORE marking it as completed, All entries will be verified!  Thanks for entering, and Good Luck!
disclosure:  I received a product for review purposes.  All thoughts and opinions are my own.
a Rafflecopter giveaway