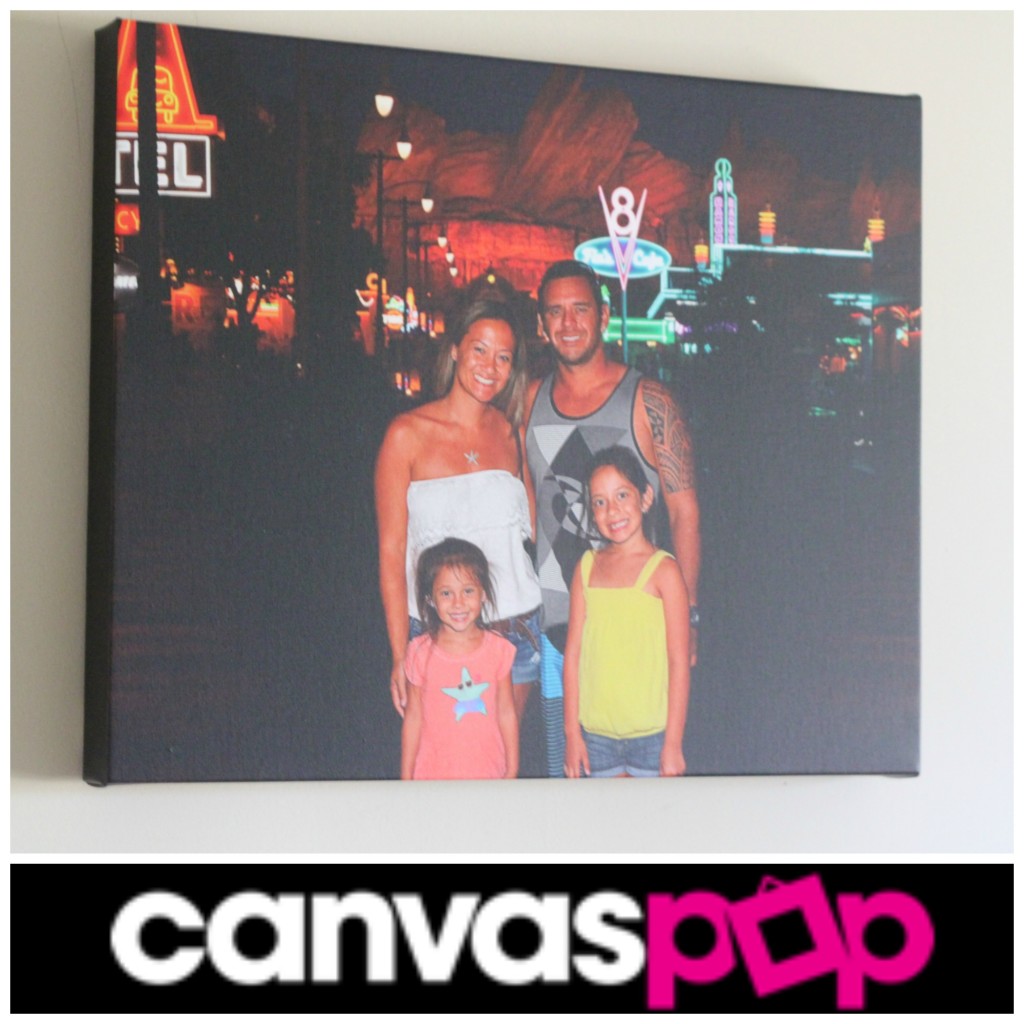 Disclosure:  I received this item for review purposes.  All thoughts and opinions are my own.
Photos are one of those things that I will always cherish.   What I love most about them is that each one capture's a moment that is gone forever.  Over time, your memories will fade, but it's comforting to know that you'll alway be able to go back and look at pictures from days gone by.  These pictures will bring back memories of moments, people and places in our past.
Ever since I upgraded from a film camera to a digital, I neglect to develop my photos.  I upload them to my computer, post them on instagram or Facebook, but rarely do I develop them.  I really should, I just don't take the time to.  I have a bunch of photo albums on my shelf, unfortunately the last picture in there is when my oldest, who's now eight, was no more than 2 year sold.  Since then I've made each of my daughters a couple photo books of pictures taken throughout the years, but I've been so busy, I've already missed two years!  It's terrible, I know.
For Christmas I made each of my girls their own Photo Books with pictures taken on our family trip to California.  They love looking through it and sharing their memories that are sparked by looking at the pictures.  These photo books are a great keepsake that will be cherished for years to come.  Photo Books are great, but I also love to display my pictures where they can always be seen.  It's awesome when you walk into a room to be greeted by lovely photos and wonderful memories.
I recently had the opportunity to review a Canvas from Canvas Pop.  I was excited as it was the perfect opportunity to display a picture from our recent family vacation.  It was such a special trip, where we created so many new memories!  I knew I'd find the perfect picture, that we could look at daily, to remind us of the wonderful time we had.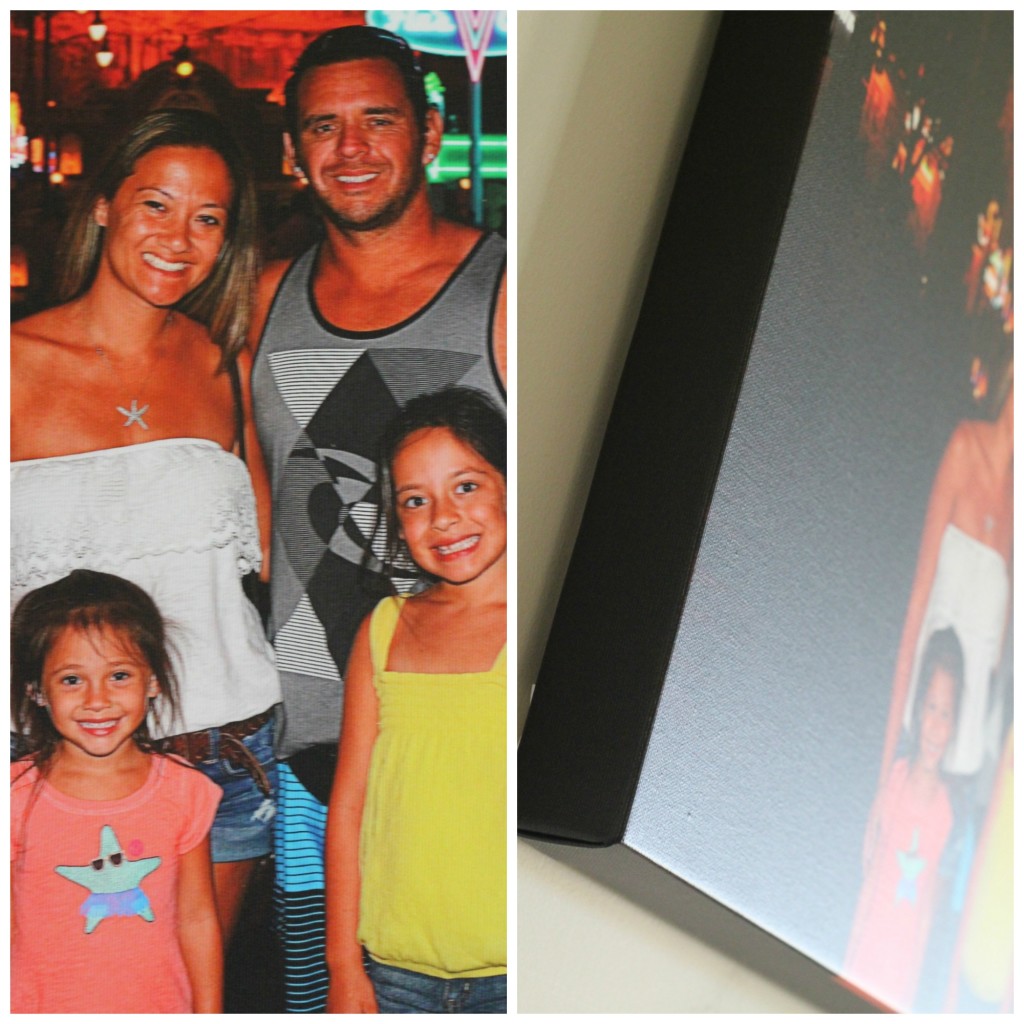 After going through my photos again and again I finally decided on "the one".  It was one of a few where we were all looking at the camera, everyone was smiling, and we all genuinely looked happy, cause we were! It's a photo taken at Cars Land in Disney's California Adventure Park.  Being that the park was quite busy on that particular day, which I'm sure it is most times, there were lots of people in the background of our photo.  Bummer!   I know.  It was still a great photo though, and it was perfect either way.
Lucky for me, Canvas Pop is able to edit your photos for you.  They offer several options.  Picture Perfect is a free option where the designers will adjust and optimize your image so it looks it's best.  They will optimize the contrast, image sharpness, and even remove red eye at no additional charge.  If you need further editing, like I did, you're able to choose one of the advanced image options.  There's a touch up option where you can have scars, moles and facial blemishes removed.  Teeth can be whitened, and small objects can also be removed from the photo.  The design enhancement option was exactly what I needed.  This option allows the designers to remove people to large objects.  They can even do digital facelifts if you'd like. I was thrilled to find out they could remove the people from the background of my photo!  Awesome right?  I was exited to see the finished product, and boy was I amazed.  It really looks like we had Cars Land all to our selves.  The final option is the design makeover.  This is the option to choose if you want a complete photo restoration.  Torn, faded, stained photographs can be restored and background replacement can be done.  I love all the options that are offered.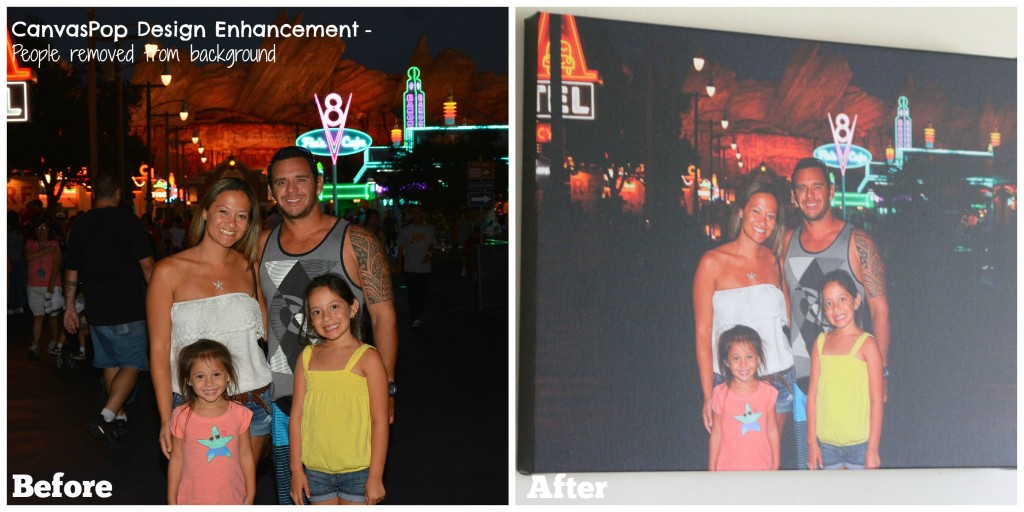 Once you upload your photo and select the various options such as size, effects, frame and edge options and editing options you can place your order or request a free digital proof so you're able to see exactly what your canvas will look like before it's printed.  If you're doing a lot of editing with your photo the free proof might be something you'd want to take advantage of.  This way you'll be able to make changes if you'd like before it's printed.
When I received my canvas from Canvas Pop I was absolutely thrilled with the way it turned out.  It looks wonderful, and I'm so happy to display it in my living room where we all see it daily, and visitors are able to see it as well.  I have already received numerous compliments on it, and everyone wants to know where it's from!
Photo Canvases make great gifts for loved ones.  Just find the perfect picture, and it'll be a gift that's cherished for years to come!