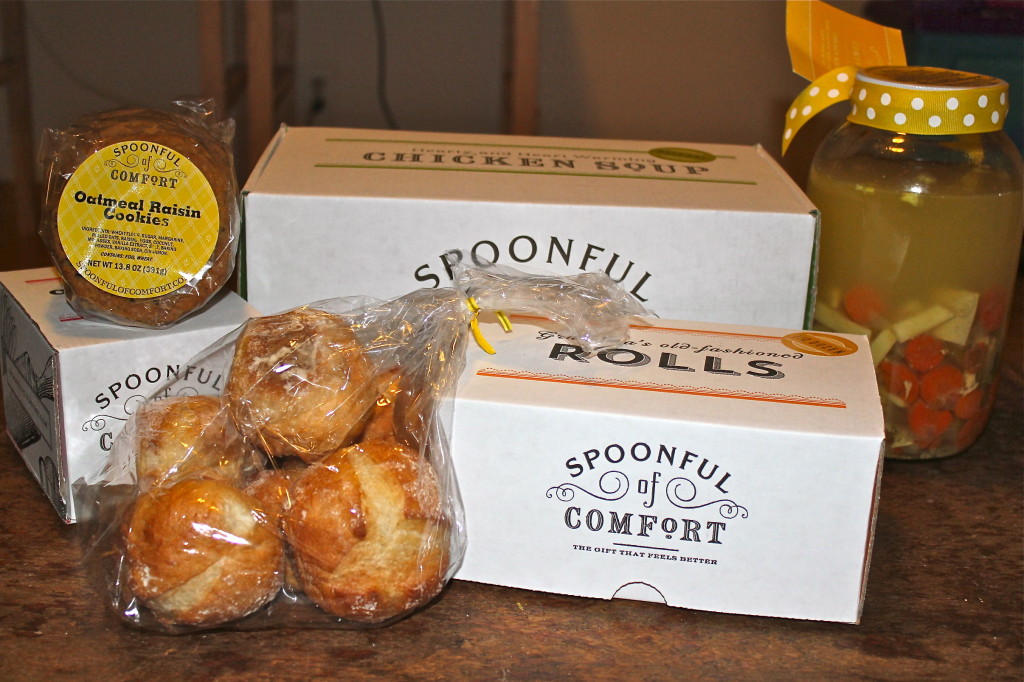 Disclosure:  I received these items for review purposes.  All thoughts and opinions are my own.
Spoonful of Comfort was an idea that came about when the founders mother was diagnosed with cancer. Sending flowers or fruit just didn't seem appropriate, she wanted something to show her mother just how much she cared, something that would comfort her in some way. This is when the idea of Spoonful of Comfort was born.
When I think of a comfort food, one of the first things that comes to mind is a nice hot bowl of chicken noodle soup. It's always nice to settle down to a bowl of soup when you're feeling under the weather. It warms up chilly nights, and makes little ones feel better when they are sick.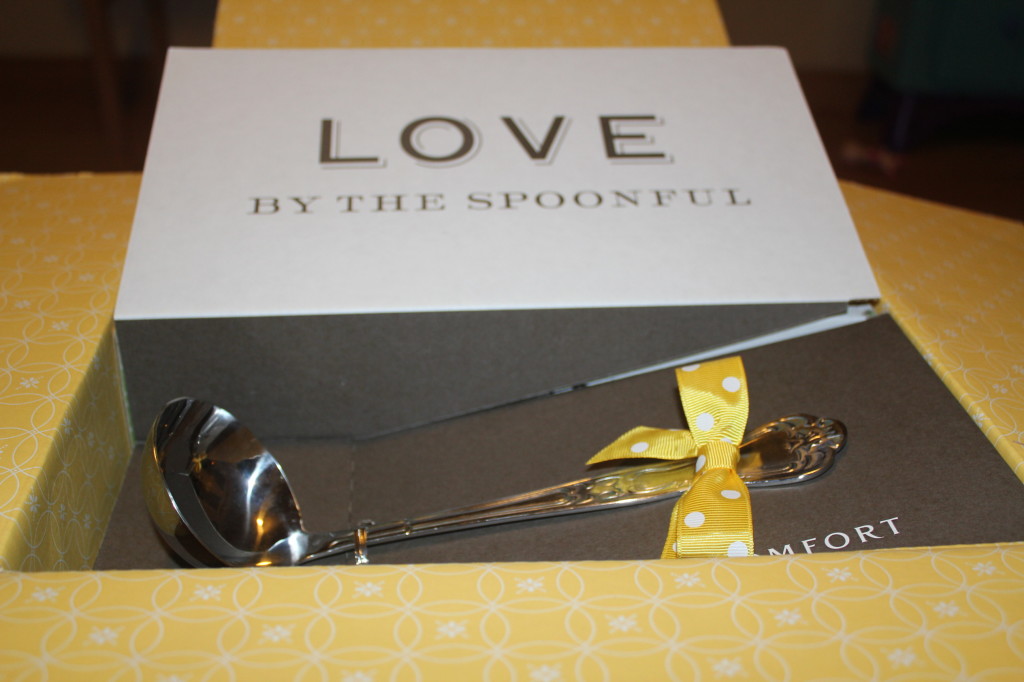 Sending a gift from Spoonful of Comfort is sure to brighten anyones day. Show them you care with a special gift which will bring comfort and happiness. When ordering from Spoonful of Comfort, you can choose from different packages. You can shop by occasion with packages tailored towards the occasion. You can send a get well, sympathy, new baby or college care package. Or, you can send one just because you've been thinking of them and wanted to do something special.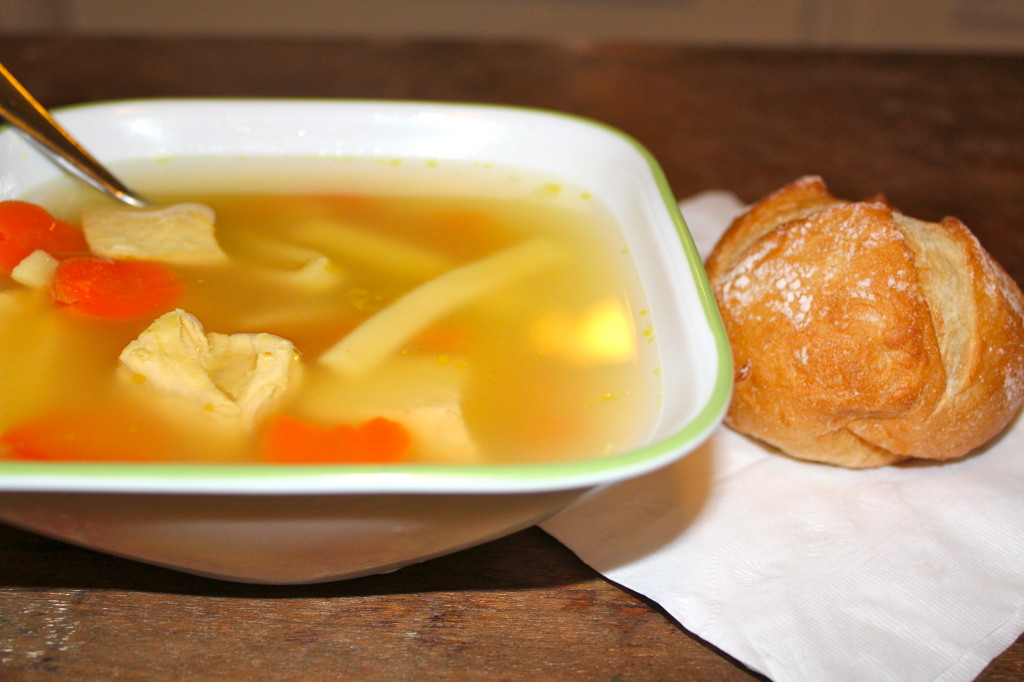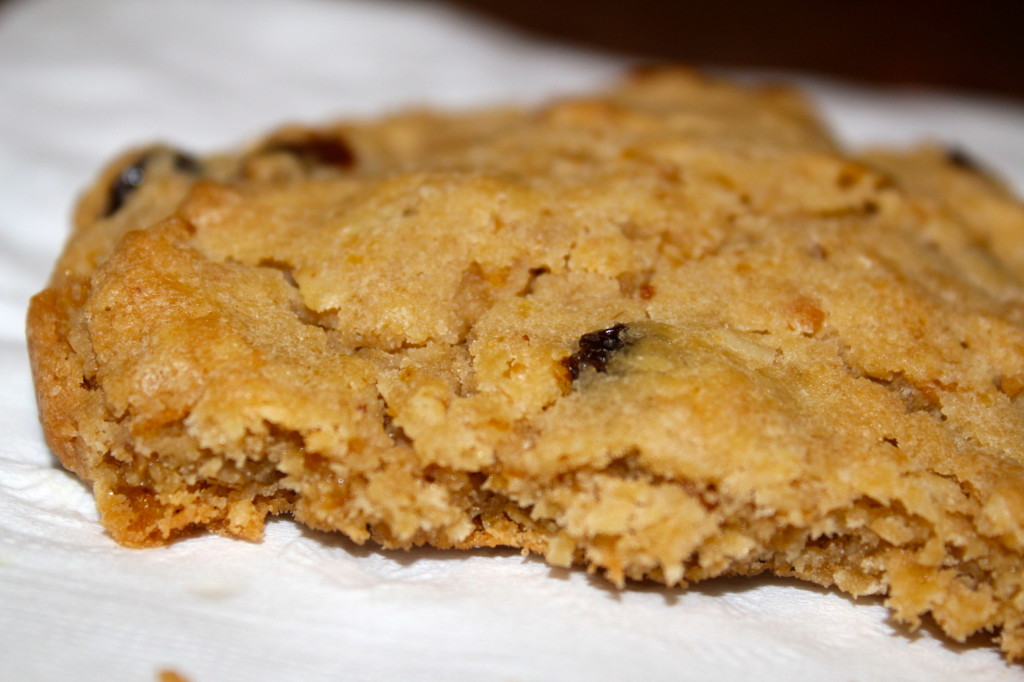 I received the Warmest Wishes Package. As I opened the box, I was amazed at how nicely everything was put together. It was packaged so beautifully, I almost didn't want to take anything out of the box! The first thing I saw was the lovely stainless steel signature ladle. After removing the ladle I found three boxes. One contained a 64 oz. family sized jar of handcrafted chicken noodle soup. The jar was sent in an insulated bag with an ice pack to keep it fresh upon delivery. The second box contained 1/2 a dozen made from scratch dinner rolls. The last box, the smallest of them all, included a special treat, 1/2 a dozen oatmeal raisin cookies!
The soup and rolls make a great dinner, especially on these cold and rainy nights we've been having.  The cookies make for a perfect after dinner treat.  I was excited to try everything as it all looked so tasty.  Looks were not deceiving.  The soup was savory, and the rolls were perfect for dipping.  The soup included huge chunks of chicken, along with noodles, carrots and celery.  After dinner, I treated myself to one of the oatmeal raisin cookies.  It was honestly one of the best cookies I've ever had, and this is coming from someone who normally goes for oatmeal chocolate chip rather than oatmeal raisin.  So that says a lot!
Overall I was very satisfied with the soup, rolls, and cookies.  I loved how everything was so fresh, even after being shipped all the way to Hawaii!  Everything tastes homemade, which is really nice.
Spoonful Of Comfort is definitely a gift I'd be happy to give or receive.   It's an unexpected gift, which makes it extra special.  I love how they put so much though into the overall presentation of the gift package.  I really appreciate the little touches, such as the yellow ribbon that's tied around the lid of the jar and on the ladle which perfectly complements the gift card and the inside of the box.  These little touches really  add to the overall experience of receiving such a wonderful gift.
Spoonful Of Comfort gift packages range in price starting at $24.99.  The Warmest Wishes Package that I received can be purchased for $59.99.  For all you get , I think it's well worth the cost.  It really makes a special, comforting, and unique gift.  It's a gift that really shows you care!