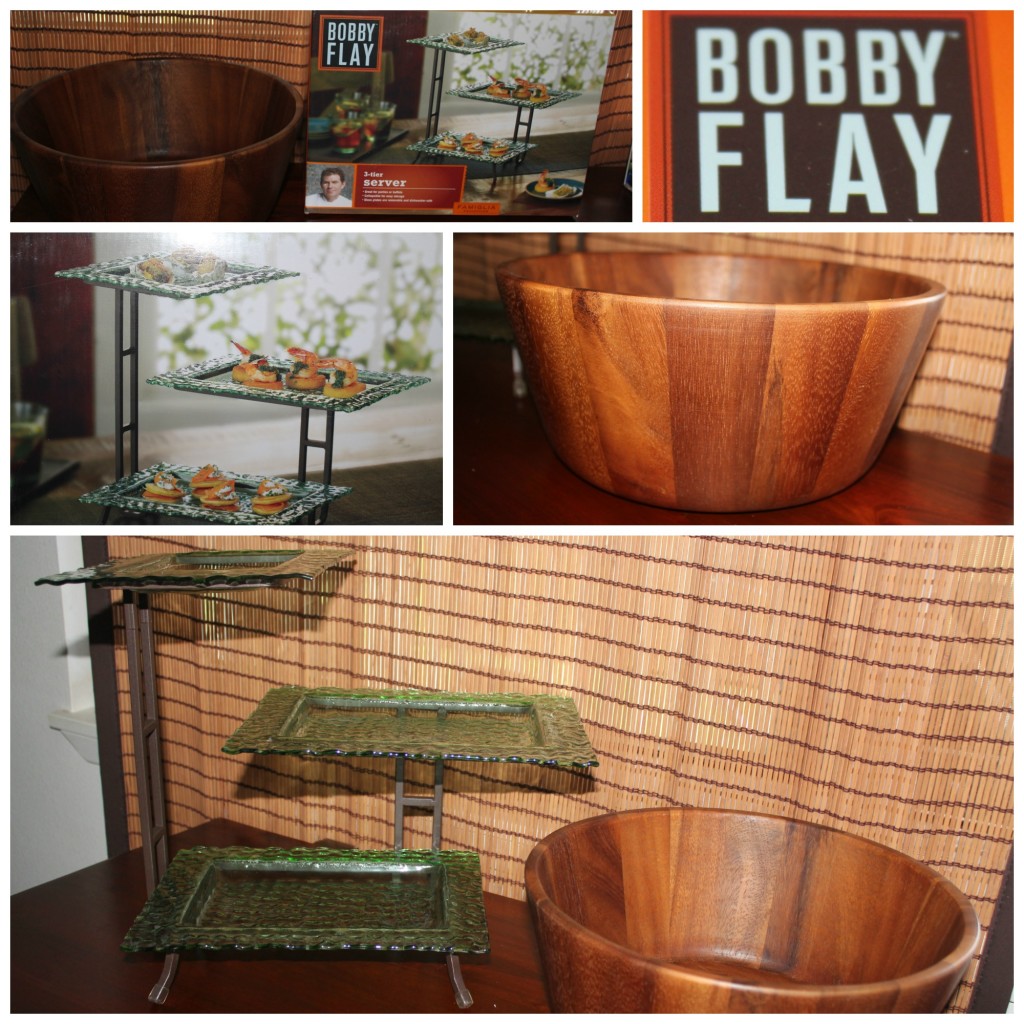 Disclosure:  I received these items for review purposes.  All thoughts and opinions are my own.
With Spring comes warmer weather, perfect weather for entertaining!  As Winter comes to an end, I'm planning to have some friends and family over for a little get together.  My husband has been laid off which has given him a lot of time to catch up on projects around the house and yard.  He finally had time to finish painting our house after almost 2 years!  Yes, he's a busy guy.
Since our house is now looking great, I thought it would be a good time to have some friends and family over.  It's always nice to get together "just because", rather than only getting together for special occasions.  When entertaining, I like my set-up to look nice and inviting.  The Bobby Flay Collection of products sold exclusively at Kohl's will help me to entertain my guests in style!
I received the Bobby Flay Hammered 3-Tier Serving Rack as well as the Bobby Flay Acacia Salad Serving Bowl.  Both products are beautiful.
The Bobby Flay Hammered 3-Tier Serving Rack features three tinted hammered glass trays on a tiered metal stand .  It's  a really nice and stylish piece and will look great filled with a selection of tasty desserts.  This is a piece that I'll be able to use at all gatherings whether it be fancy or casual.  It really stands out, and will be noticed by guests!  This serving rack can be found in Kohls stores and online.  It retails for $59.99.
The second item I received is the Bobby Flay Acacia Salad Serving Bowl.  This beautiful bowl is made of Acacia wood and it has a multi-toned design.  It makes a great centerpiece.  I plan to use the bowl to serve a nice green salad, but it can be used for snacks, like chips or maybe even a nice pasta salad as well.  The bowl is well made, and I expect it to last for years to come.  It measures 12″ in diameter and can be hand washed.  This bowl retails for $39.99.
If you like to host gatherings at your home, now would be a great time to start looking for special pieces you'll be able to use for entertaining.  Be sure to check out the entire Bobby Flay Collection at Kohl's.