With the overwhelming influence of technology these days, it's so important to keep kids active! I admit, my kids spend too much of their time on their iPads or watching tv. This is why I'm always trying to find ways to keep them occupied.
When I was growing up, my sisters, cousins, the neighborhood kids and I never needed an adult to push us out the door. We never wanted to be inside. We'd spend all day outside only coming in once the sun began to set. Unfortunately, times have changed, and so have kids.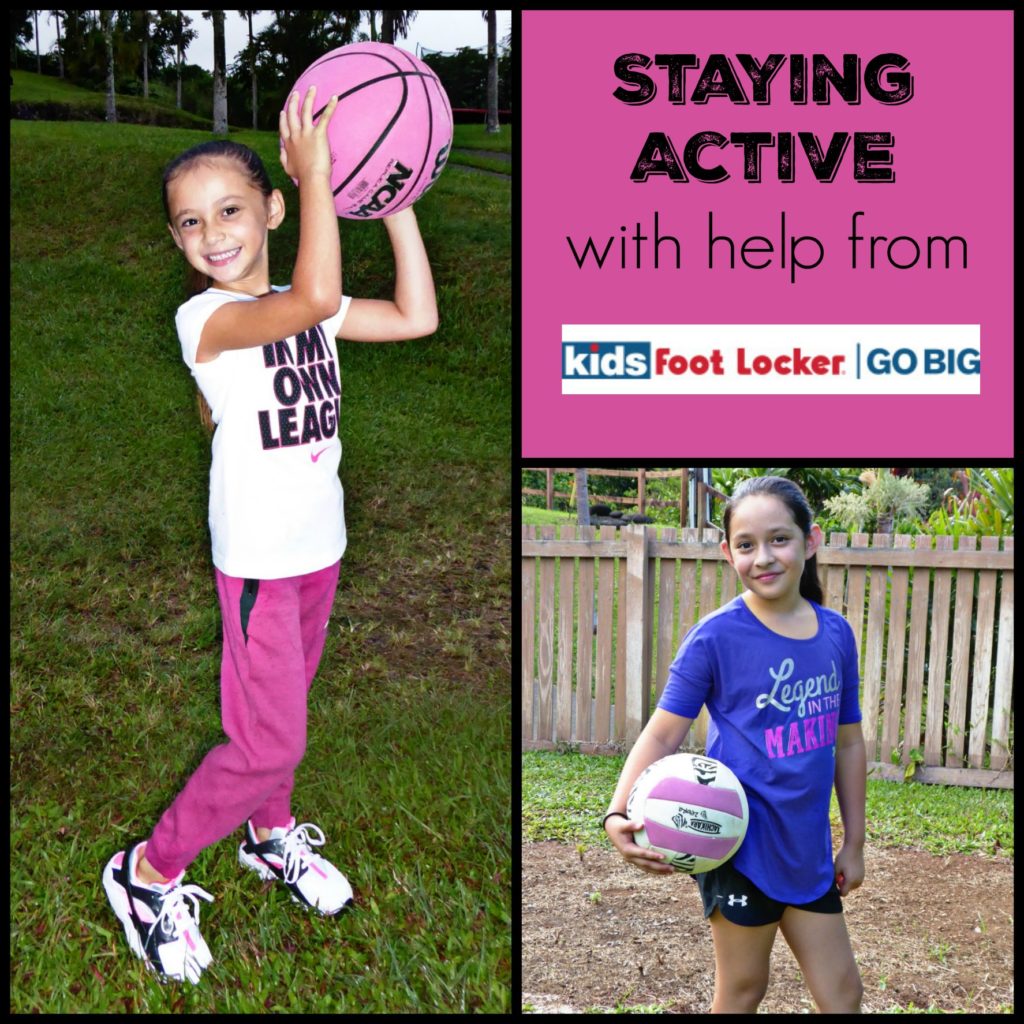 In an attempt to get the kids more active, my husband purchased every type of sport ball imaginable. They got a soccer ball, football, volleyball, basketball and even a hockey puck and hockey sticks. Now, thanks to Kids Foot locker, they also have the right attire to go along with all their activities.
Kids Foot Locker offers the largest selection of brand-name athletic footwear, apparel and accessories for children. Both my daughters were lucky enough to receive outfits from Kids Foot Locker, and they absolutely love what they've received.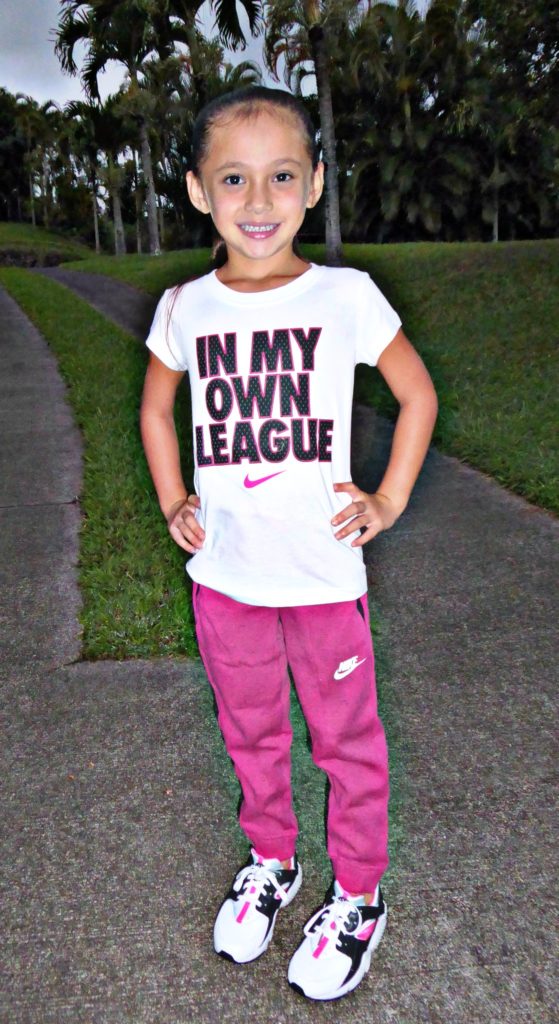 My kindergartener has an awesome Nike outfit, perfect for any active little girl. My favorite part of the outfit would be the pair of Nike Huarache Run shoes in White, Hyper Pink, Black and Anthracite. It's a replica of the 1992 original, offering the same great style. My daughter finds them to be very comfortable and wears them often. Rounding off her outfit is a pair of Nike Tech Fleece Pants and a cute t-shirt with "In My Own League" graphics emblazoned across the chest. It's a great outfit. Stylish, sporty and perfect for this energetic six year old.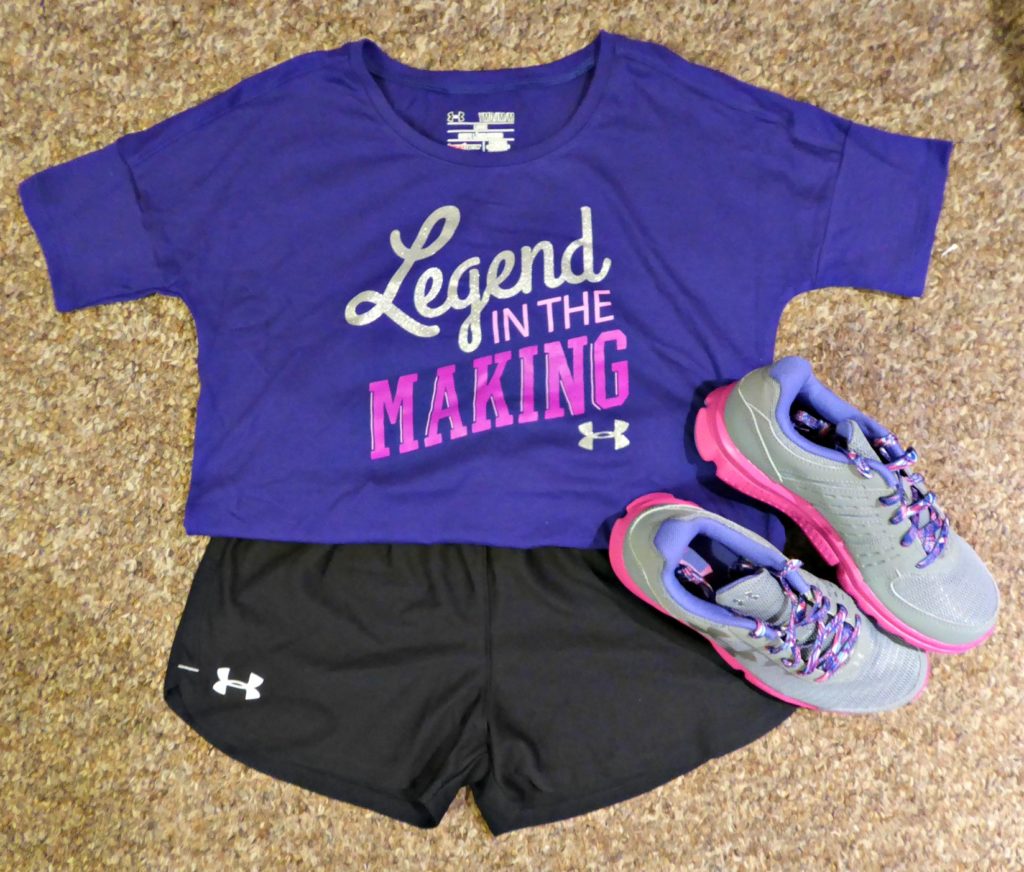 My oldest has a fun, comfy outfit that's perfect for sports and outdoor play. It's sporty, yet girly at the same time and features one of her favorite colors – purple! Her outfit includes a super cute graphic t-shirt featuring the Moisture Transport System which helps to wick away sweat and is best for weather between 75° and 100° which exactly what we deal with here in Hawaii, so it's perfect. She also has a pair of Under Armour HeatGear Play Up Shorts. These lightweight shorts are made of 100% polyester. They feature an anti-pill finish along with anti-odor technology to keep kids smelling fresh even after a long afternoon of sweaty practice. Finishing off her outfit is a great pair of Under Armour Micro G Swift Speed shoes. Featuring strategically placed rubber traction on the outsole, these running shoes are built to give you great durability with less weight. The breathable mesh upper provides ventilation while the overlays add structure and support without adding bulk. It's a great, stylish shoe that my girl adores. She says she loves her entire outfit because it's so comfortable.
If you're ever in search of some great athletic footwear, apparel or accessories for your kids, be sure to check all that's offered at Kids Foot Locker. You and your kids will love the great selection of brands and styles.