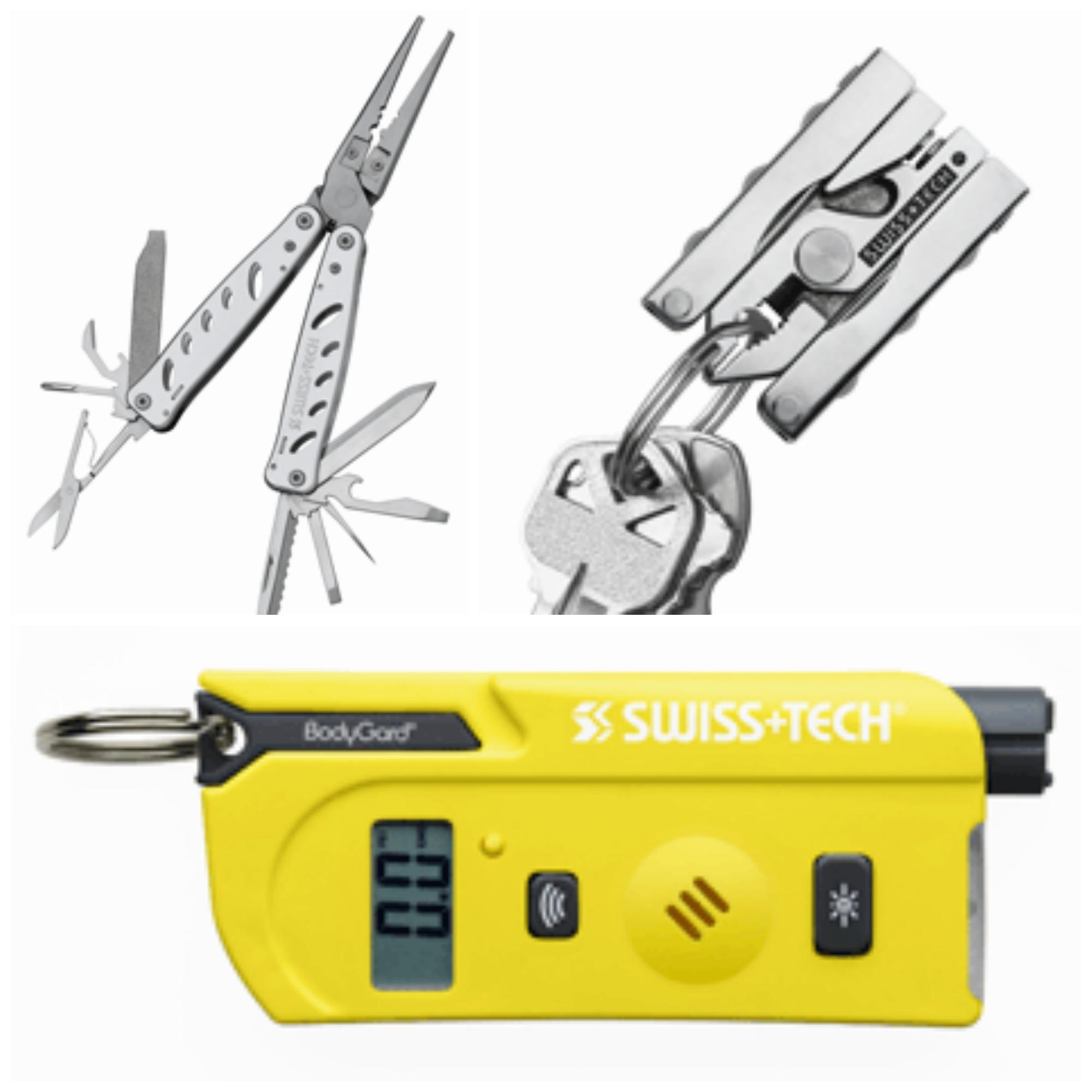 Swiss+ Tech offers a variety of useful tools that can help you out on various situations.  I love that most, if not all of their products are multi-purpose.  It's great to have a tool that can do so much!  I received three products from Swiss+ Tech, all of which I believe would make great gifts for Men, Women & Teens.
The BodyGuard Elite 9-in-1 Auto Emergency Tool is one I recommend for every car owner. Everyone should have one of these in their vehicles glove box.  In an emergency situation, it could really come in handy and can even save your life!  It comes with a limited lifetime warranty.
This amazing tool has the following 9 functions:
Glass Breaker
Seat Belt Cutter
Sonic Alarm
Emergency Flasher
LED Flashlight
Tire Pressure Gauge – Speaking
Tire Pressure Gauge – Digital
Tire Tread Depth Indicator
Key Ring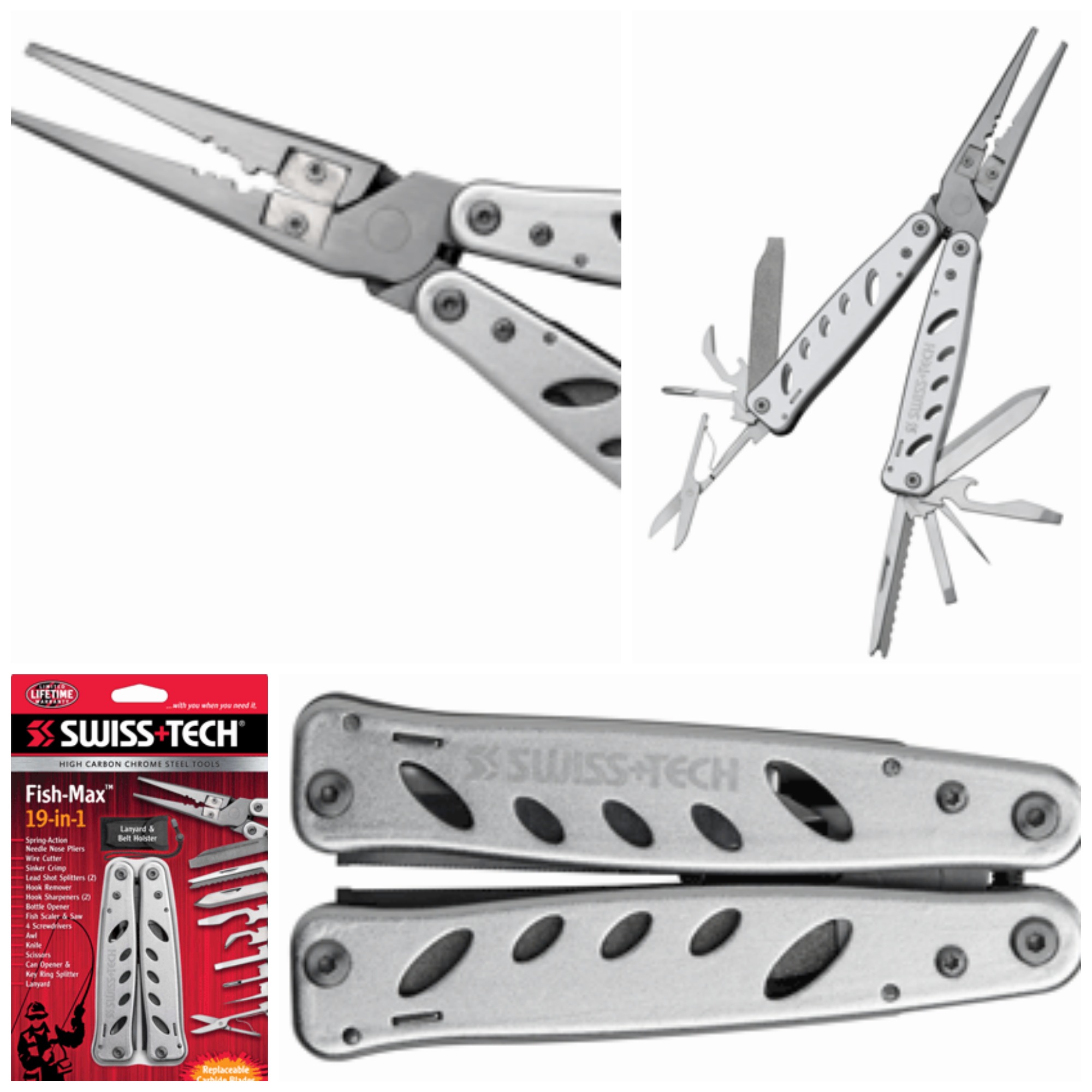 The Fish-Max 19-in-1 Tool ($39.99) is a must-have for every fisherman.  It's made of High Carbon Chrome Steel with replaceable carbide blades.  With 19 functions, it has nearly everything a fisherman could need.
This useful tool comes equipped with the following 19 functions:
Spring-Action Needle Nose Pliers
Wire Cutter
Sinker Crimp
Lead Shot Splitters (2)
Hook Remover
Hook Sharpeners (2)
Bottle Opener
Saw & Fish Scaler
4 Screwdrivers
Awl
Knife
Scissors
Can Opener & Key Ring Splitter
Lanyard
Belt Holster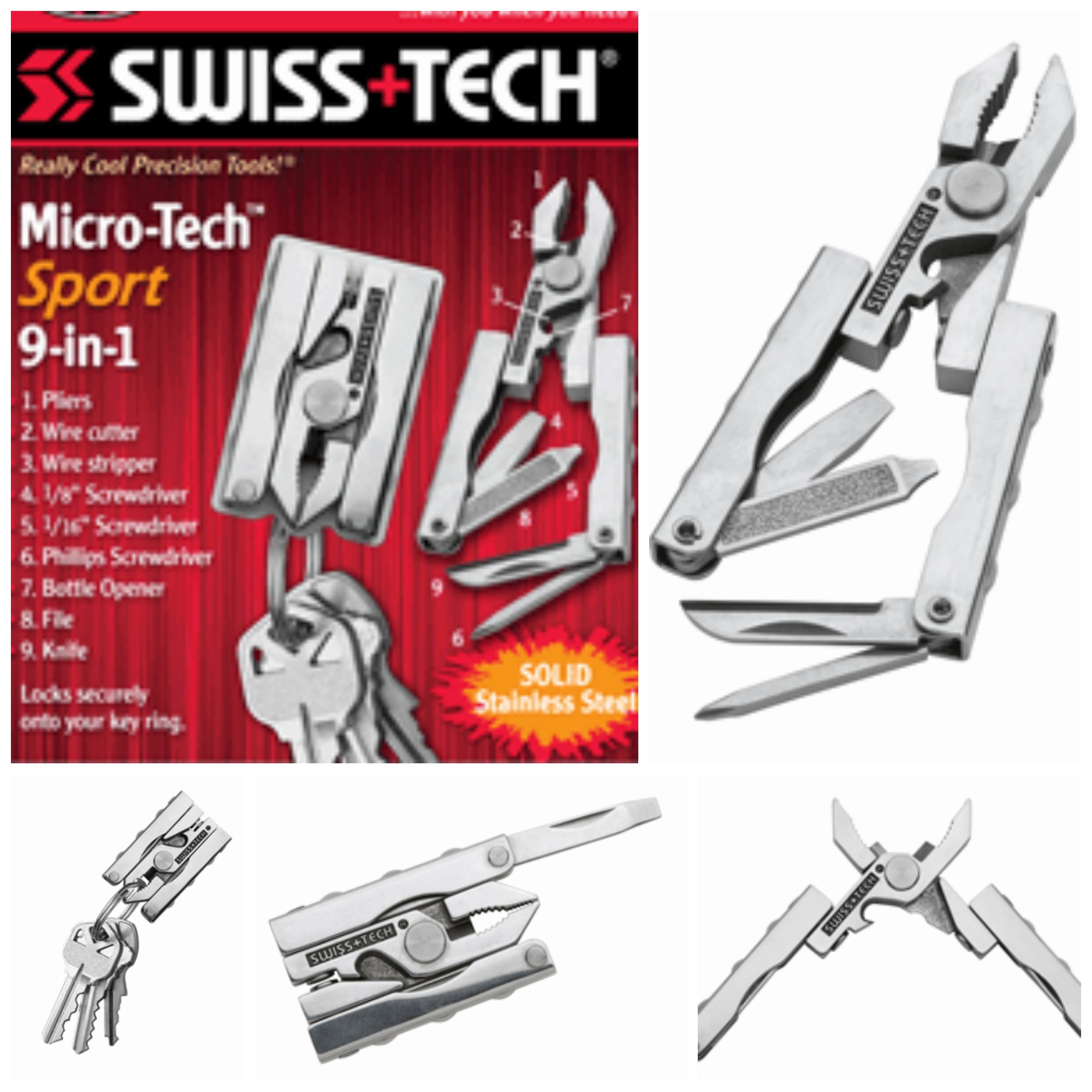 The Micro-Tech Sport 9-in-1 ($8.99) is handy tool to keep on your key ring.  Made of solid stainless steel, it offers 9 useful functions.  Because it's so little (1.90" x 1.40" x 0.25″), you can take it just about anywhere you go.  I plan on keeping mine in my purse as I'm sure it'll come in handy at some point or another.  It offers a quick-release, self locking mechanism that easily secures onto key rings for everyday use.  It's a durable, useful tool you'll be happy to have around.
Functions include:
Pliers
Wire Cutter
Wire Stripper
1/8″ Screwdriver
1/16″ Screwdriver
Phillips Screwdriver
Bottle Opener
File
Knife
I can't wait to fill my husbands stocking with these awesome tools from Swiss+ Tech.  Useful gifts are always great and I love knowing it will be put to good use.