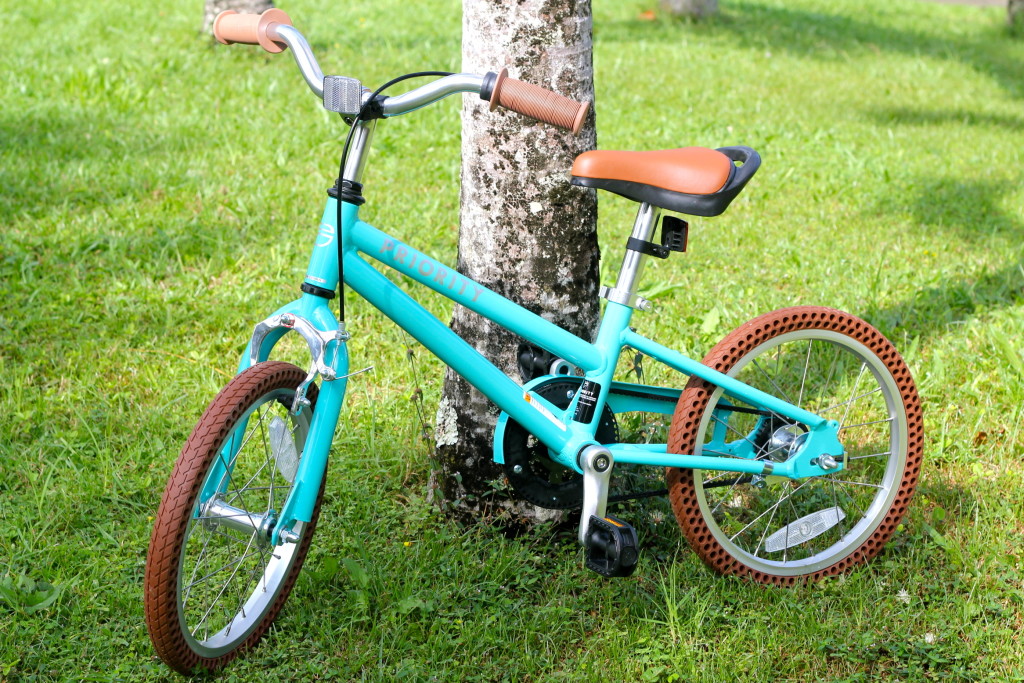 My girls enjoy a day spent outside riding their bikes on the driveway or around the neighborhood. Suggesting a bike ride is one of the ways I'm able to get them out of the house and away from all the technology that seems to consume so much of their time. I prefer my kids to be active outdoors rather than sitting in front of the TV or iPad, especially when the sun's out and it's a beautiful day. Bike rides are a great way to use up some energy, get some exercise, and have fun!  Looking for a bike for your kids?  Check out the Priority Start C/B.
"Priority Bicycles was created from a vision of making cycling simpler" 
They were made to be:
visually appealing but not overly technical,
lightweight,
comfortable,
easy to ride,
easy to maintain,
hard to steal,
affordable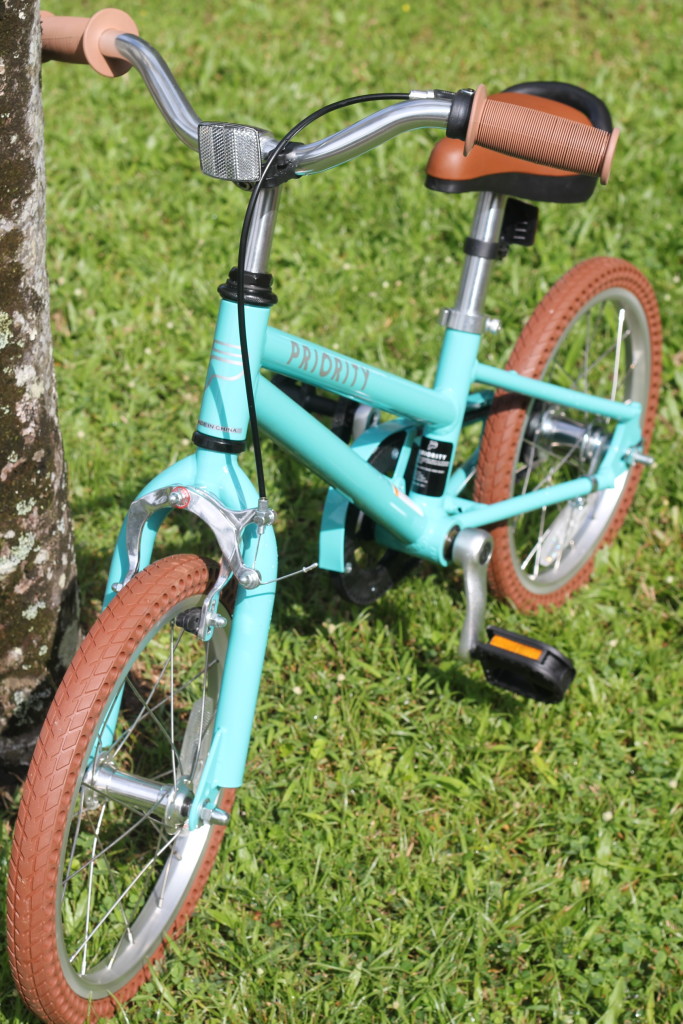 I received the Priority Start, which is absolutely perfect for my 5 year old.  I must say, I am amazed by this bicycle.  It has got to be the nicest, sturdiest, most well-made bike I have ever seen. It's definitely different from other bikes we've owned, and that's a good thing.  These bikes are light. They feature a rust-free, lightweight aluminum frame.  Most other bikes are made of steel, which is heavier and prone to rust.  We live near the ocean, where things tend to rust quickly with the salt in the air.  I am thrilled that I don't need to worry about this bike getting rusty.  Because of this, I'm counting on my daughter getting many years of use out of her Priority Bike, and we'll most likely be able to pass it on to her little cousins when she outgrows it.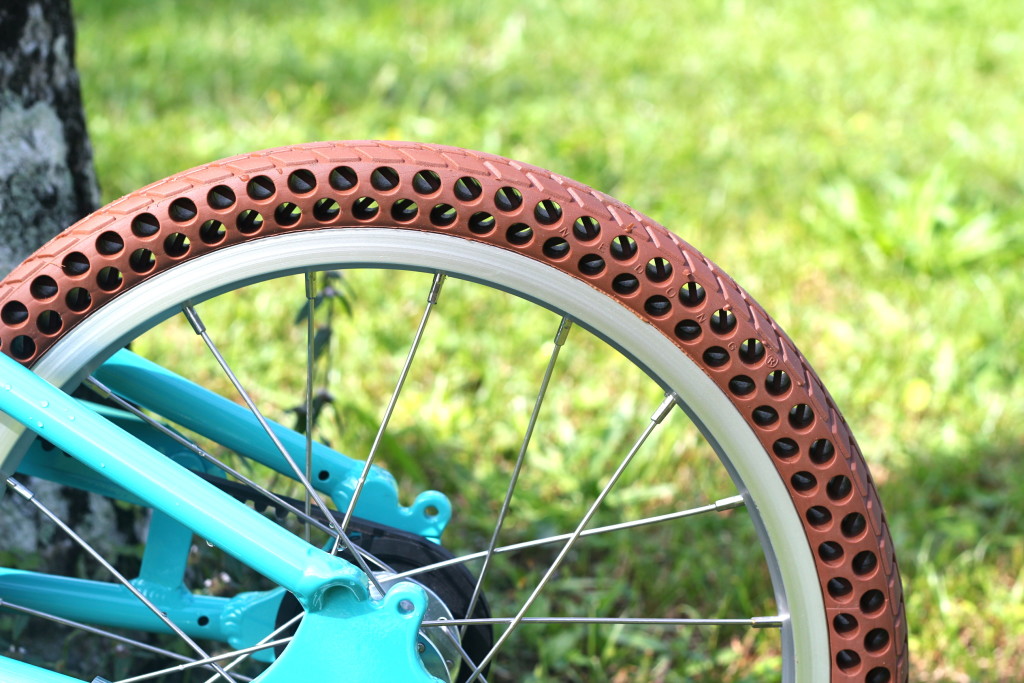 Another neat feature of this bike are the Easy Go Tires.  What's so great about these tires is they don't need air!  You never have to worry about them going flat. They're also equipped with shock absorbing air holes to help absorb road bumps.  Not only are they super functional, they look cool too.  The bike comes with a comfy, well-cushioned seat.  The seat has a handle, which is perfect for helping to guide your child when they're first learning and also helps when carrying the bike.
My daughter has outgrown training wheels, but for kids who are still learning to ride confidently, the Priority Start System features a simple 3-2-1 adjustment set-up. Level three offers the most riding support with the training wheels just off the ground. Level two raises the wheels slightly higher to teach introductory balance. Level one raises the wheels even higher to allow the child to balance freely with backup safety in case they lose balance. Unlike other training wheels, this system requires no tools to adjust. A simple hand knob allows for adjustments to different wheel levels, and to affix and remove the training wheels completely with your hands.  It really couldn't get any easier than the Priority Start System.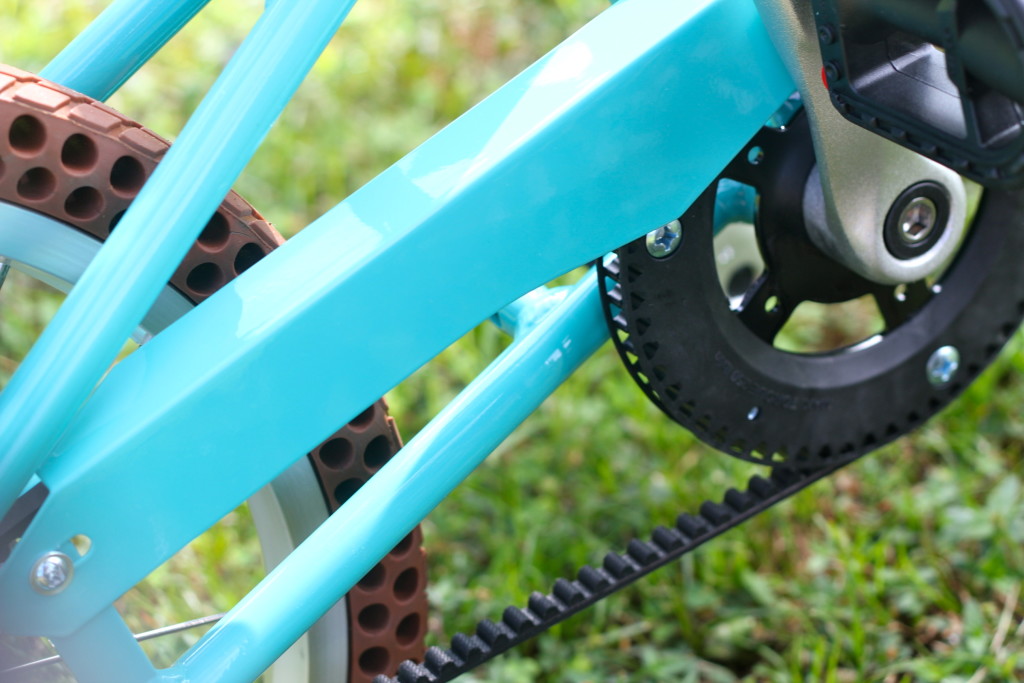 The priority bike is a beautiful bike with a modern classic design.  It comes in two size options, 12″ and 16″ and two different frame options – Diamond Frame and Step Through Frame.  The Diamond comes in red or blue and the Step Through comes in your choice of pink or turquoise.
The bikes come unassembled, but they are very easy to put together on your own.  I did it fairly quickly, and this is the first time I've ever put together a bike.  They do recommend having a professional put it together, or getting it checked out by a professional once you've assembled it to be sure you put it together correctly.  They have a video on their site with step by step directions for putting together your bike.  It was very helpful.
The Priority Start C/B can be purchased through their website for $249.00.  It's well worth the price as this bike is very well made and expected to last for years to come.  You'll definitely get your money's worth.  If you're looking for the perfect gift for your 2-8 year old, you should really consider a Priority Start.  Want a bike for yourself?  Priority also makes bicycles for adults!