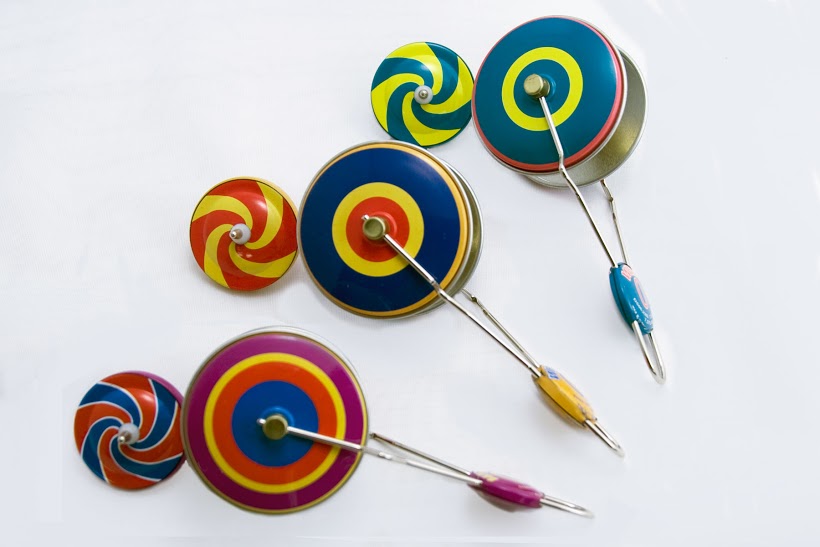 Disclosure:  This is a sponsored post.  All thoughts and opinions are my own.
Now that the Holidays are over, and all the excitement is gone what's to love about January?  It's cold, rainy, even snowing in many areas.  Kids are often stuck inside complaining of boredom.  Tv's and iPads have become their go-to entertainment of choice.  
I think back to the days when we'd use our imagination to entertain ourselves.   Back in those days, our toys didn't even require batteries!  It's crazy how much electronics have become such a big part of kids lives these days.  It has to change, and I'd like to introduce you to a cool toy that's lots of fun.  Give your kids a Whirl-O and watch them step away from their electronics for some good old-fashioned fun!
 The Whirl-O® is a classic tin toy that teaches kids about magnets, light and color, and the wheel and axle. Regal Games, a small business that makes retro games, is trying to bring the Whirl-O back to the market and into your homes through a new Kickstarter campaign. 
 Donations to the Kickstarter campaign will be used to pay for tooling – also known as the new devices created to manufacture the Whirl-O®. To thank you for your donations, we will send out Whirl-O®s for you to play, teach or gift. 
 The Whirl-O® is a serious boredom buster – and, parents, you don't have to feel guilty; it's educational too! 
When I had my youngest daughter try it out for the first time, she thought it was pretty cool.  "This is like a magnet", she exclaimed with a huge smile on her face.  She thought it was a fun new toy and spent quite some time with it.  I watched her as she stared at the Whirl-O, watching as the top went around and around.  We tried some of the tricks which were pretty fun and entertaining.  The tricks included in the little booklet are sure to keep the older kids entertained for quite some time.  I'm sure they'll come up with tricks of their own as well.

How it works 
The Whirl-O® is a magnetic tin top launcher.  To get started, roll the top along the two parallel disks also known as the rails.  This is called the "Simple Spin" or "Takin' it for a Whirl".  The new design also features a color morphing feature.
The Simple Spin is just the beginning.  Once you have mastered the Simple Spin, it's time to launch your top.  Get it going fast and smooth, and then use the hubcap to give it a good thump on a table. With some practice, you can time it so you'll know where the top will land. The faster your Simple Spin, and the better you stick the landing, the longer the top will stay spinning.  
Kids – and even some of us adults – will be addicted to the Whirl-O® in no time!
Entertaining and educational 
The Whirl-O® is a great way for kids to explore concepts like magnets, the wheel and axle, and the role our eyes play in our perception of light.  Regal Games has even provided a set of free lesson plans written for elementary students. Download three free lesson plans here. Share them with your kids' teachers for bonus points! 
Bring back the Whirl-O®
The Kickstarter campaign to bring back the Whirl-O® is running now through February 11. Learn more and make your donation here.