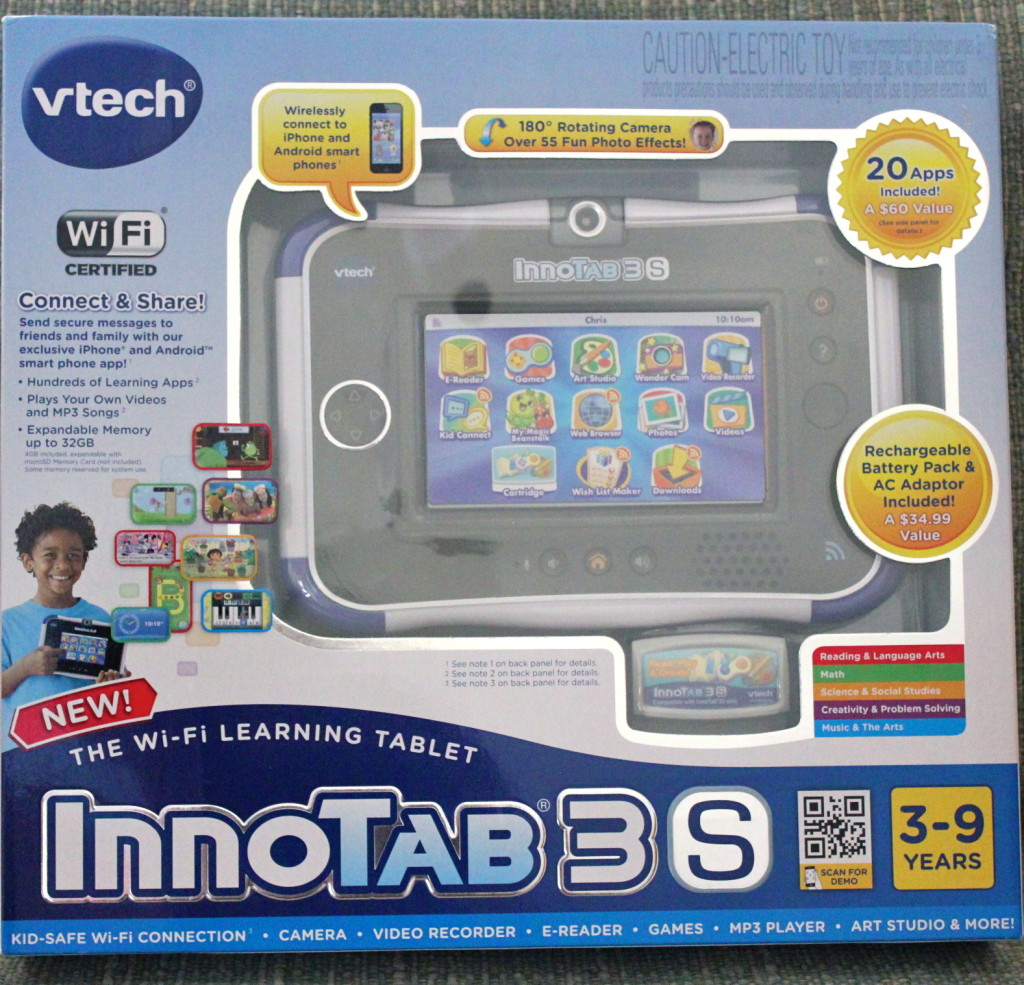 Disclosure:  I was provided a sample of the VTech InnoTab 3S to facilitate my review.  All thought and opinions are my own.
Kids, they love electronics.  At least my kids do!  In this day and age, electronic gadgets are a part of most kids lives.  I know my kids are always attracted to electronic items, whether it's an iPad, cell phones or cameras they seem to gravitate towards these things.  When I heard I'd have the chance to try out the new VTech InnoTab 3S, I was excited.  I was 100% positive, my kids would enjoy it!
When my 3 year old saw the box she instantly showed interest.  She stood there and kept asking to play with it, even though I hadn't yet set it up!  The entire set-up process was simple and quick.  I tried out the different functions before handing it over to my 3 year old to give it a try.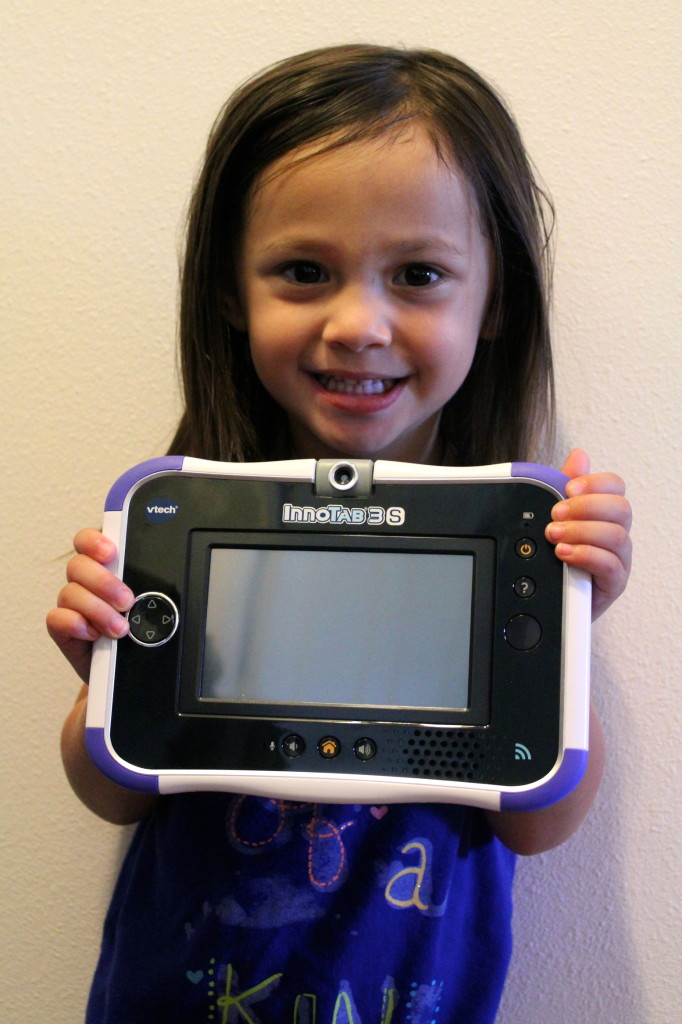 The VTech InnoTab 3S is an electronic learning tablet made just for kids ages 3-9.  It's nice and compact, lightweight, and seems to be built well and pretty durable.  The InnoTab 3S comes with 4GB of on-board memory and you can expand the memory up to 32GB with a micro SD card.  The VTech InnoTab 3S includes wi-fi capabilities which is great.  It includes 20 Apps!  It comes pre-loaded with 16 Onboard Apps including an e-reader, video recorder, photos, music and more.  It also comes with a Read, Play & Create cartridge which includes 3 additional Apps.  You get 1 free downloadable App as well.  You can purchase additional downloadable apps starting at $2.99.  Cartridges can be purchased for $24.99.
The InnoTab 3S features VTech Kid Connect – a ground-breaking communication app that brings families together by allowing kids to be connected with their parents and friends through both tablet-to-mobile and tablet-to-tablet communication – anytime, anywhere.  With the InnoTab 3S kids can send text messages and animated stickers to parents' smartphones. In return, parents can send text messages and stickers to their child's InnoTab 3S, opening up an interactive dialogue. Plus, kids can stay connected to their friends and siblings by sending messages safely between two InnoTab 3S tablets. And since all communication is approved by parents, they can rest assured their child is only communicating with people they know and trust, making VTech Kid Connect a true breakthrough in kid-safe family networking.
Unlike other versions of the InnoTab, the InoTab 3S comes with a rechargeable battery pack and AC adaptor which is a $34.99 value.
Upon set-up I used the camera to take my daughters profile picture.  The 2.0 MP camera leaves much to be desired.  The photo was taken in my bedroom, and it was dark and grainy.  I guess you can't really expect much from a 2.0 MP camera.  I do like the fact that the camera rotates 180 degrees.  With this feature you are able to take self-portraits as well as pictures of your surroundings. Of course, my girls don't seem to notice the poor camera quality and enjoyed taking pictures with the InnoTab 3S.  They really enjoyed all of the fun effects, there are 55!

I tried a few of the apps and found the e-book to be my favorite.  The images were nice and bright, making it fun for kids.  The story is read out loud and you can use the stylus to touch different parts of the screen to get various interactions.  It's a great App for my six year old who is a beginning reader as she can read along and learn new words.  My three year old will have to spend some time learning how to use the InnoTab 3S, but my six year old figured everything out pretty quickly on her own.
If you're looking for a fun gadget for your kids, something they can learn with and enjoy, the VTech InnoTab 3S is a great option.  It retails for $99.99.
And now for the GIVEAWAY…..
1 Lucky winner will receive a VTech InnoTab 3S.  Giveaway ends on October 15,2013.  Open to US residents.
Enter using the Rafflecopter below.
Livin' The MOMMY Life is not responsible for shipment of this prize.