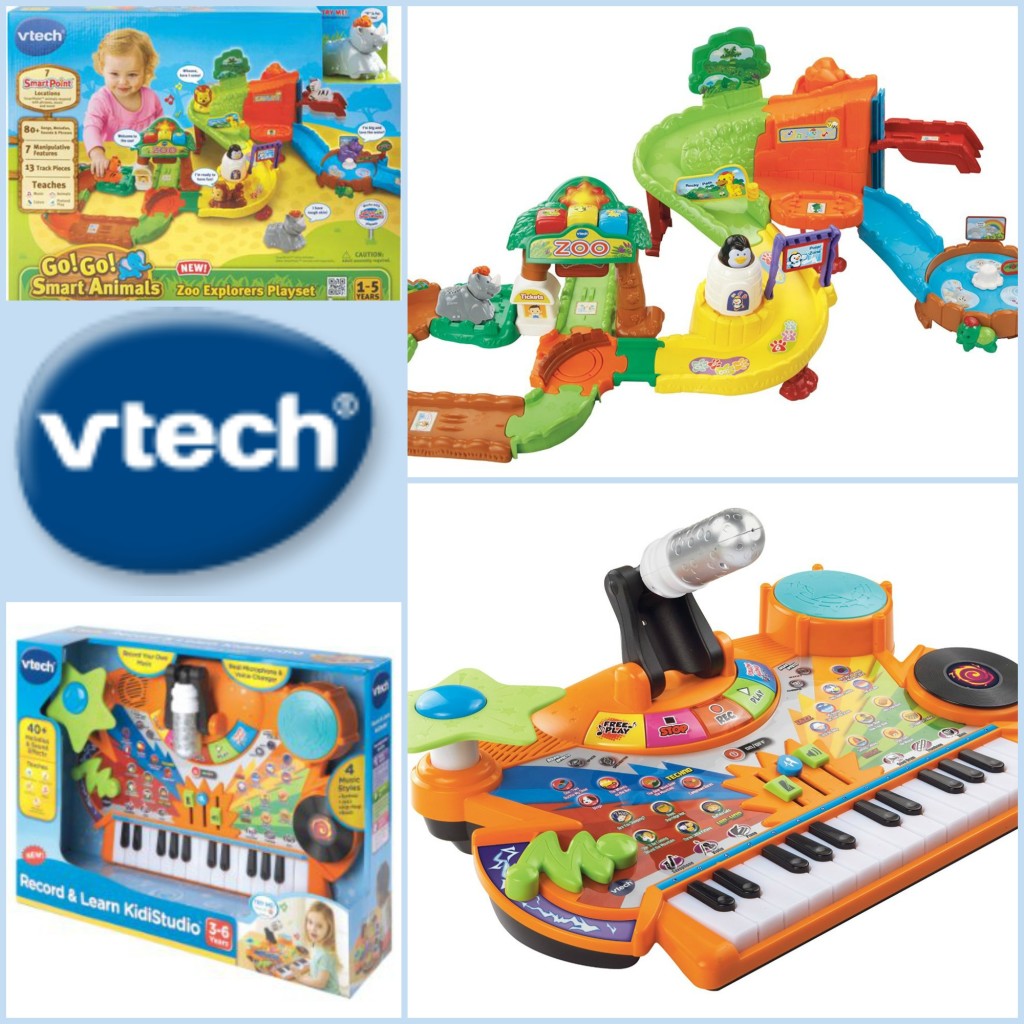 Disclosure:  I received this item for Gift Guide inclusion.  All thoughts and opinions are my own.
I've always loved VTech products.  My girls already own a nice selection of VTech toys, all of which are great.  The VTech Record and Learn KidiStudio & Go! Go! Smart Animals Zoo Explorers Playsets are both very nice toys that will make great gifts for the upcoming Holidays.  For me, VTech is always a brand that lives up to my expectations!
The Record and Learn KidiStudio is so much fun!  I have two girls who love music and love to sing.  The KidiStudio is perfect for them.  It brings lots of fun and enjoyment.  The only problem I've had is that when one plays with it, the other instantly gravitates to it as well.  Although they can play nicely together at times, that isn't always the case.  These are one of those toys that kids might fight over!  It's so cool and fun, everyone wants to play with it at the same time.
The Record and Learn KidiStudio lets kids (and adults!) sing, record, and play back their own musical masterpieces.  It features a real microphone and a voice changer as well as a variety of instrument sounds including drums, a scratch disc and a whammy bar.  There are over 40 songs, melodies, and sound effects.  This awesome toy has it all!  You can even learn to play different melodies by following along on the light-up keyboard.
The Record and Learn KidiStudio is recommended for children ages 3-6 years old.  From experience, I can assure you, it'll be enjoyed by older kids, teens, and adults as well!  You'll get lots of use out of this toy.  It retails for $39.99.
The Go! Go! Smart Animals Zoo Explorers Playset is the ideal toy for kids who like animals.  This interactive playset includes 13 track pieces that you can arrange in multiple ways.  It also comes with one animal, the SmartPoint Rhino.  Additional animals can be purchased separately.  I do wish the playset came with more than one animal because the animals are what makes it more fun and engaging.  The animals respond to the zoos seven SmartPoint locations with different phrases, music or sound effects.
Other neat features are the electronic entrance that teaches animal names, traits, letters, coors an music as well as a turning gate, spinning water tank, and sliding elevator.  There's so much to do!  All the great features are sure to keep kids occupied for quite some time.  There are additional sets sold separately if you'd like to expand.  It's not a little toy, and does take up some floor space.
The Go! Go! Smart Animals Zoo Explorers Playset retails for $39.99.  It is recommended for children ages 1-5.