Honey Butter is one of my favorite toppings for toast! Strawberry Honey Butter? How could anyone resist?! When Crunchies shared this recipe with me, I couldn't help but share it here on Livin' The MOMMY Life. Crunchies is a company who offers the highest quality freeze-dried fruit on the planet. They offer everything from freeze-dried apples to grapes, strawberries and more. This recipe uses Crunchies Strawberries, a healthy treat I love snacking on.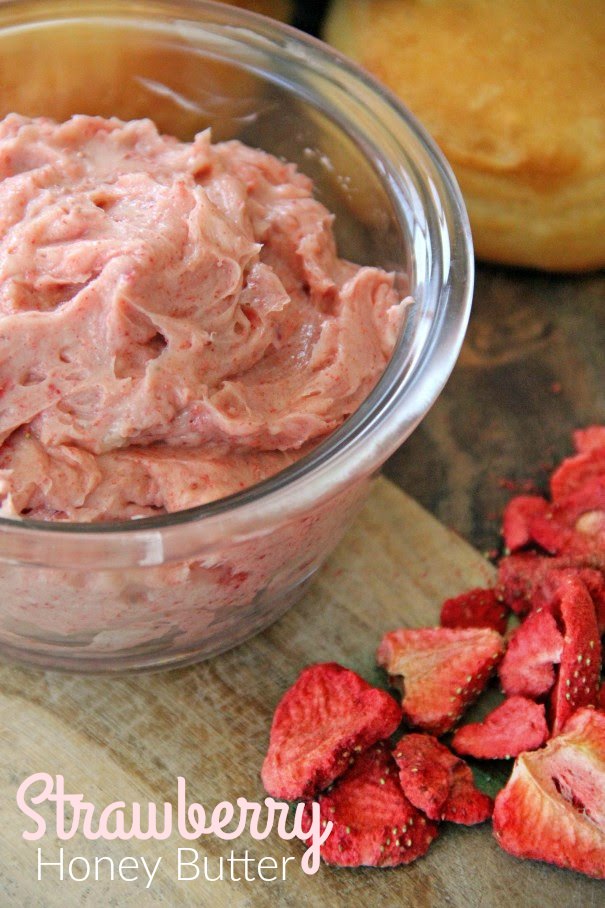 Recipe provided by Crunchies.
WHIPPED STRAWBERRY HONEY BUTTER
Ingredients
1 cup butter
1 cup honey
1 teaspoon vanilla extract
¾ cup Crunchies Strawberries
Instructions
Whip softened butter in a mixer until smooth. Be sure no lumps remain.
Add honey and vanilla and mix until combined.
Add Crunchies Strawberries ¼ cup at a time and mix until butter is fluffy and pink.
Refrigerate butter until firm.
Spread the butter on your favorite bread and enjoy!
What do you think? Doesn't this sound delicious? This Strawberry Honey Butter is so easy to make, you must give it a try! It would also be the perfect addition to a strawberry themed birthday party like the one we had for my daughter's 2nd birthday.