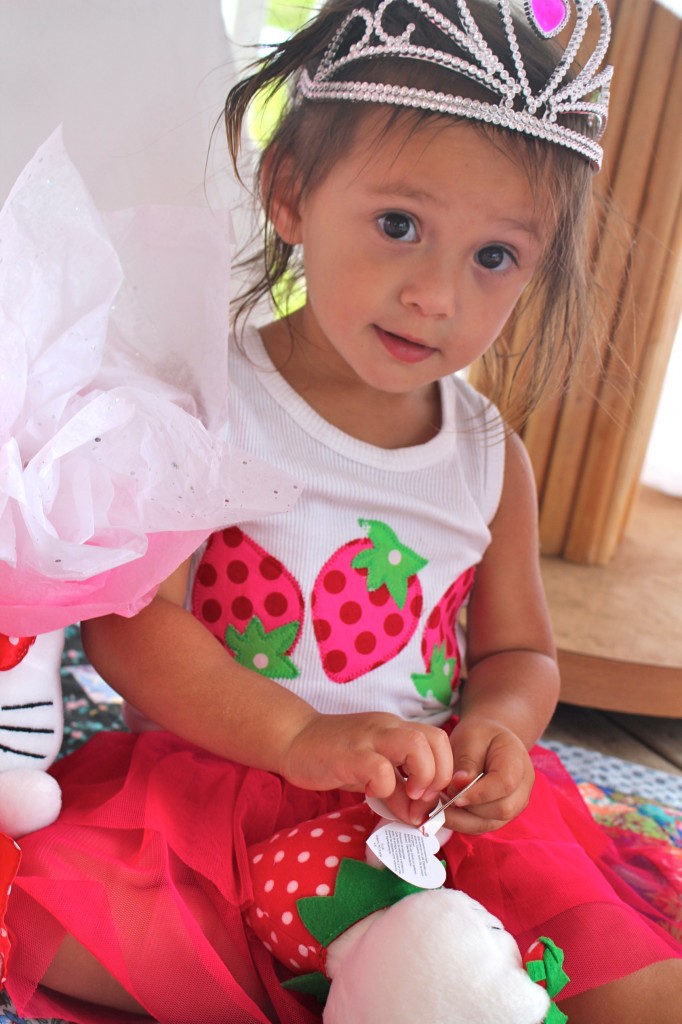 This past Saturday we celebrated my daughters 2nd birthday with an adorable Strawberry themed birthday party.  This wasn't a Strawberry Shortcake Party as I don't normally do character parties, and my daughter has no idea who Strawberry Shortcake is.
The Birthday Girl wore a cute strawberry appliquéd tank top from Makmaydesigns.  The strawberries were made with a hot pink fabric with red polka dots.  I added on a tutu skirt, and it became the perfect attire for a strawberry birthday party!  She also loved her princess crown, and wore it proudly.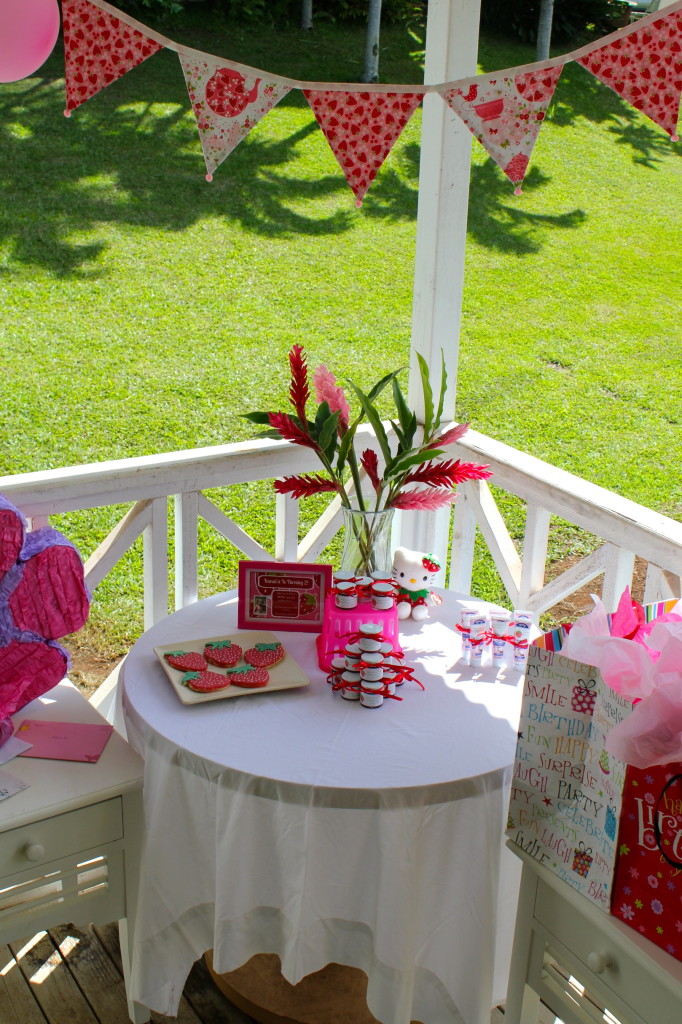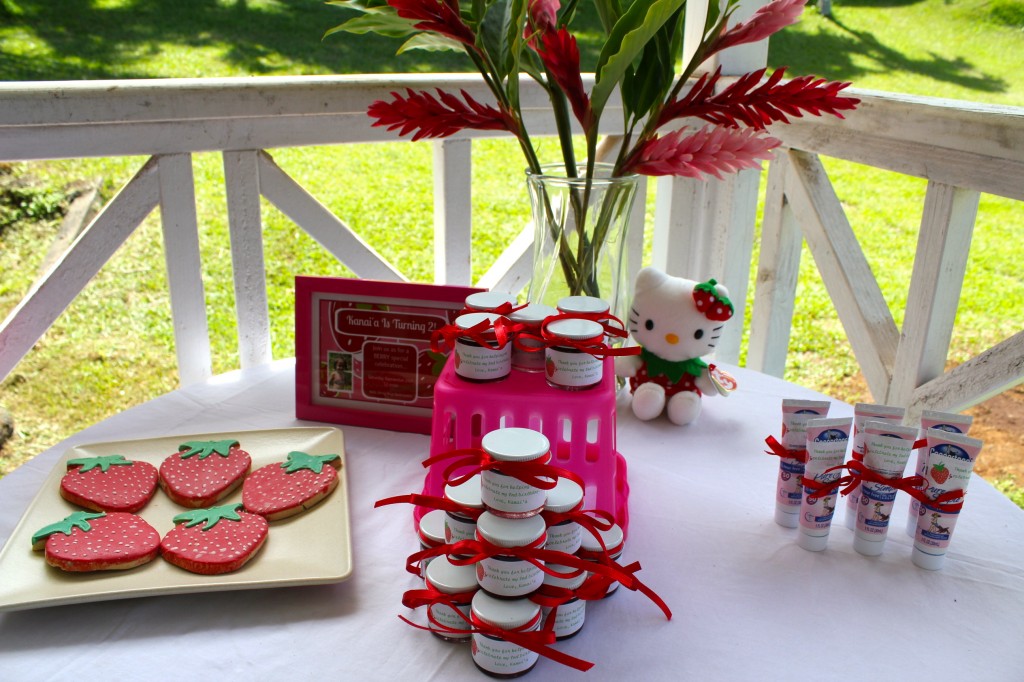 I incorporated the colors red, white and pink and found a few super cute strawberry items to add to the decor.  Etsy is a great place to shop for party decorations.  I found the most adorable strawberry print banner on etsy from Sew Happy Boutique.  It added the perfect touch to my entry table.  I hung the banner above the table of Party Favors and Gifts.  It really made the area stand out, and I got lots of compliments on it.  I love that I can reuse the banner in my daughters room, or the girls play room.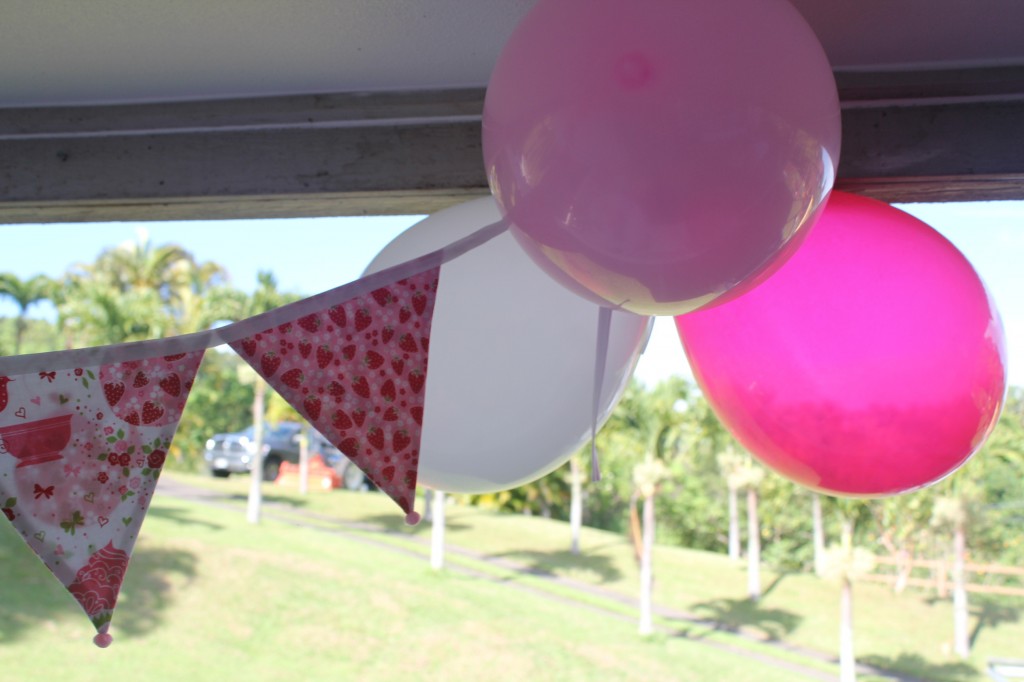 My party favors included strawberry jams from LA Farm Girl, and travel sized coppertone baby sunscreens.  The strawberry jams came in cute 1 oz. jars, and were a hit at the party.  Everyone wanted to know where I got them.  I added a label to the jar with a little thank you note for helping us celebrate and tied on a cute red ribbon.  I absolutely loved those little jars of jam, they'd make great favors for any party!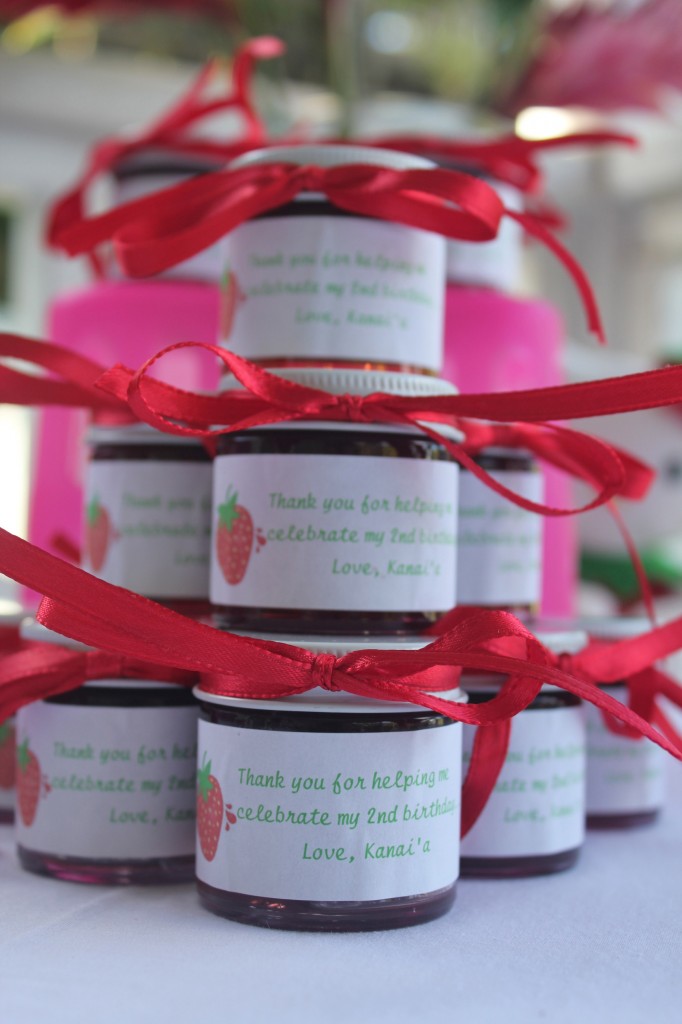 Each of the little girls who came to help us celebrate also got to enjoy a special strawberry cookie.  The hand dipped cookies from Sullivan Bakehouse were enjoyed by all.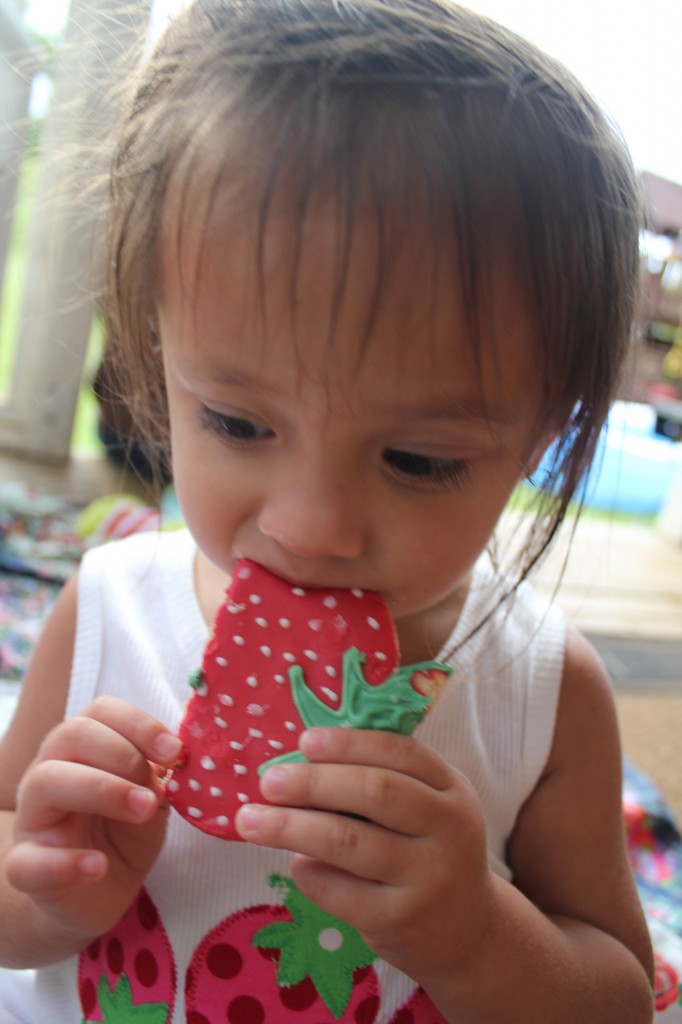 Appetizers included fruits, chips & dip.  My husband carved out a giant watermelon and filled it with a variety of fresh fruits.  We also made fruit kebobs and stuck it in the fruit bowl.  My 5 year old said it looked like a fruit forest!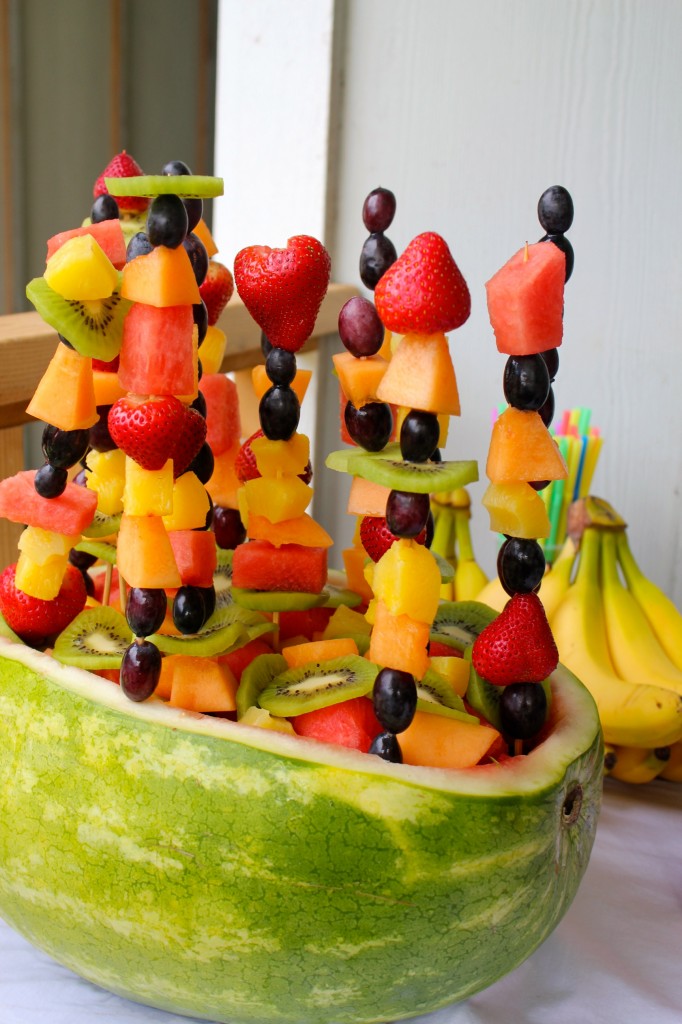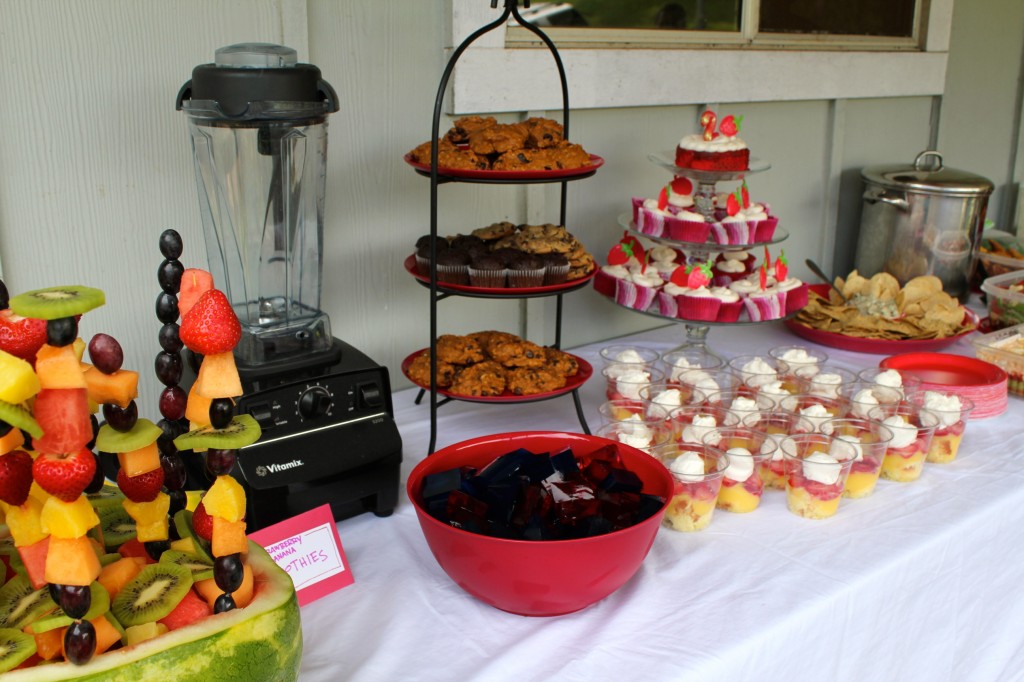 For lunch we had a Sandwich Bar where guests were able to make their own turkey sandwiches.  We provided a variety of breads and toppings.  Everyone enjoyed making their sandwiches and trying toppings they wouldn't have normally added to their sandwiches.  Toppings included Poppyseed Dressing, Caesar Bacon Ranch Dressing, Honey Mustard, Sauteed Onions, Sauteed Mushrooms, Guacamole, lettuce tomatoes, and a variety of cheeses.  We also made strawberry banana smoothies which were refreshing on this hot and sunny day.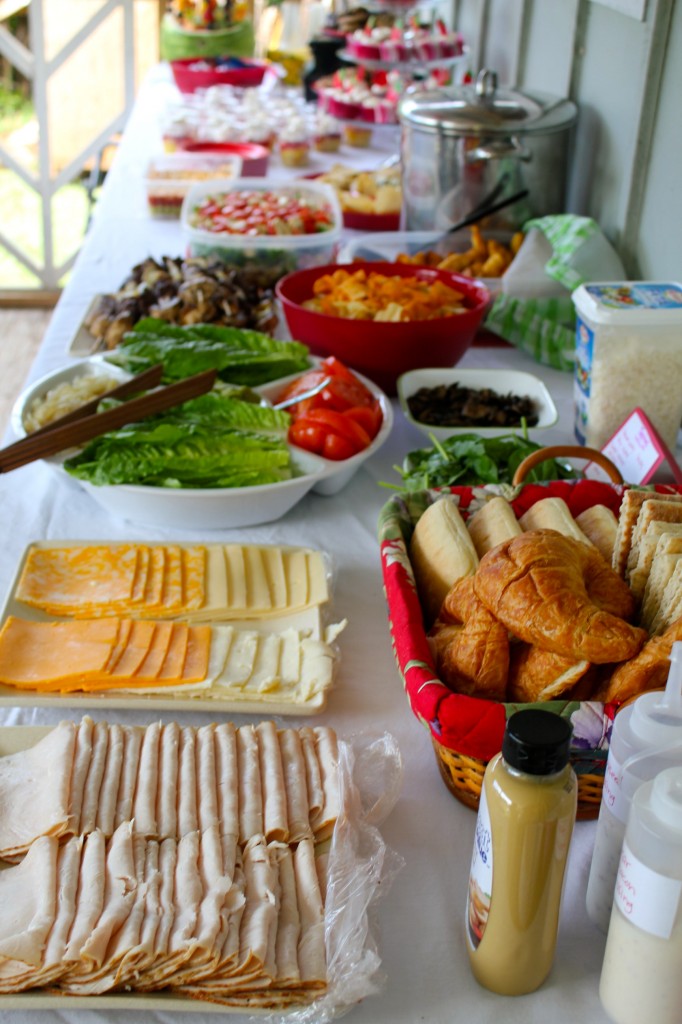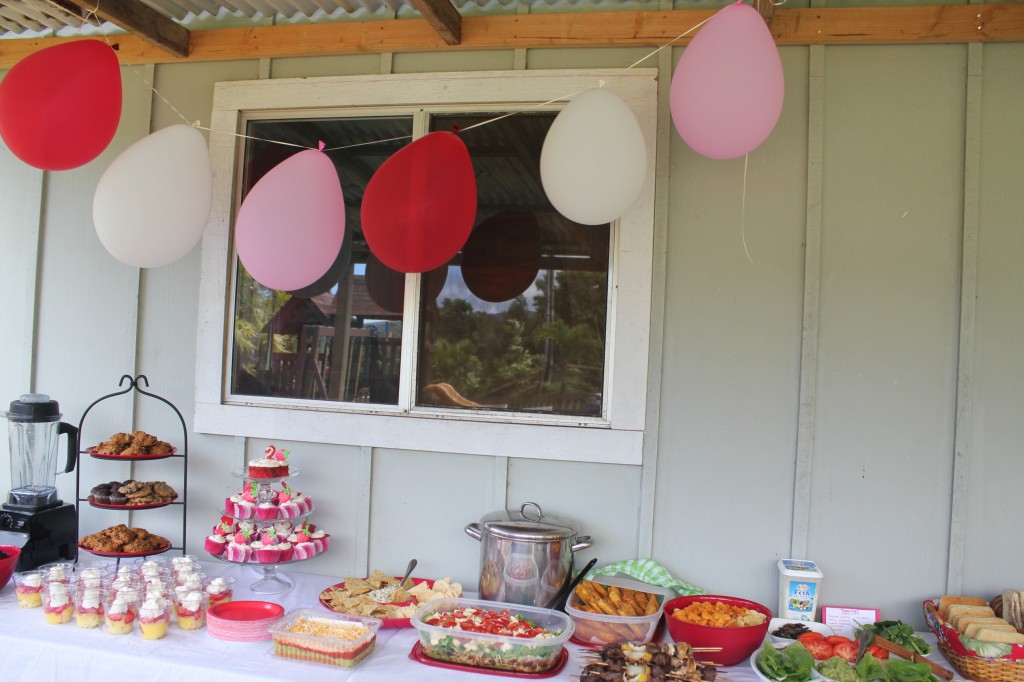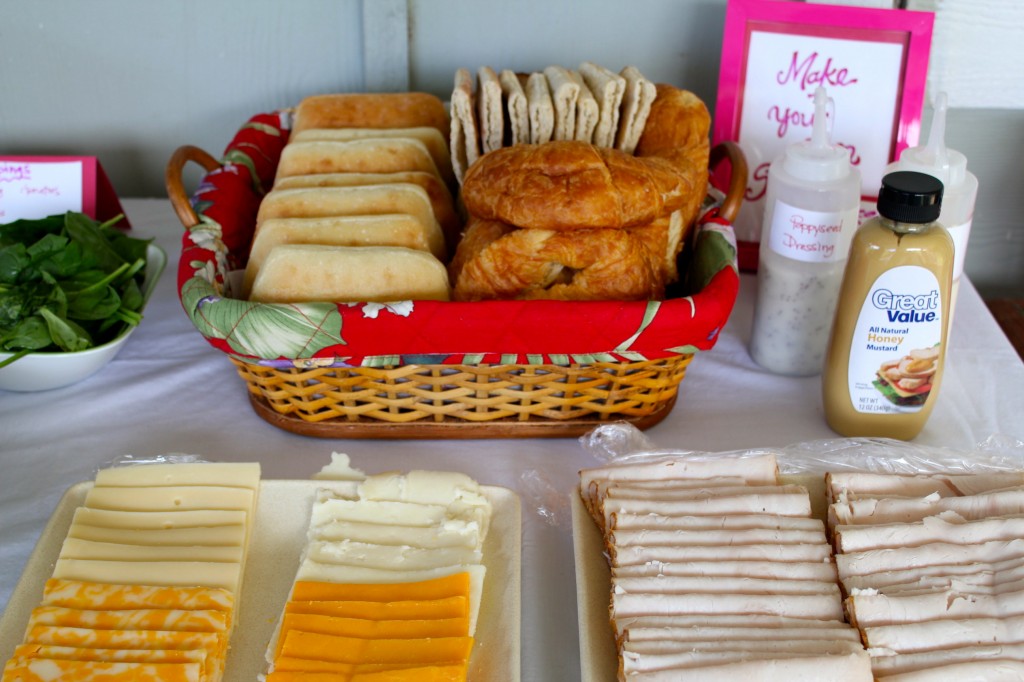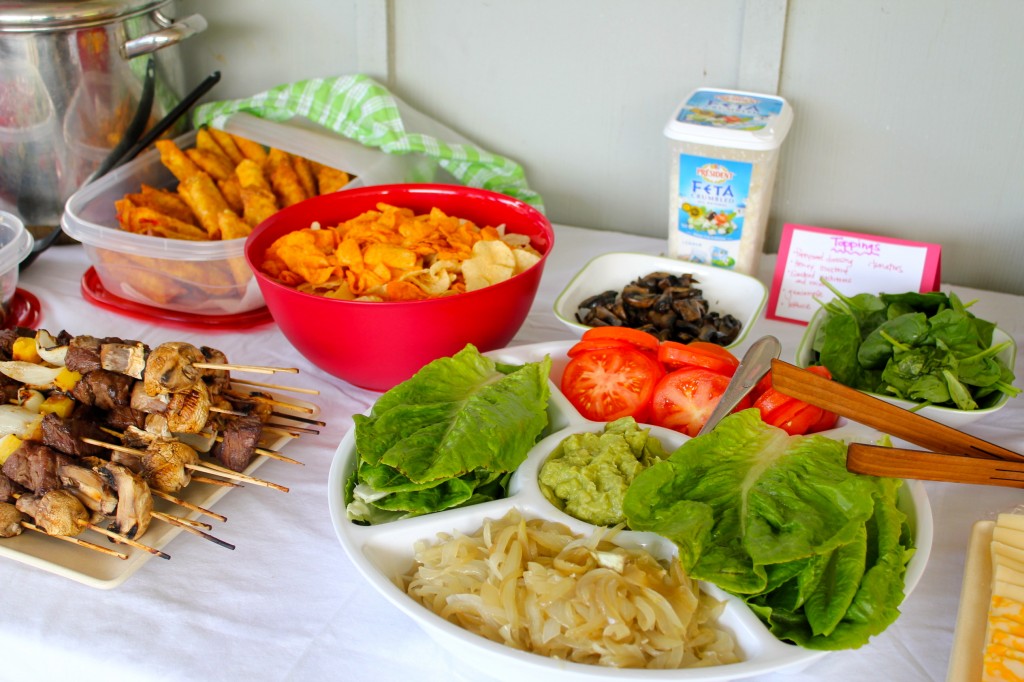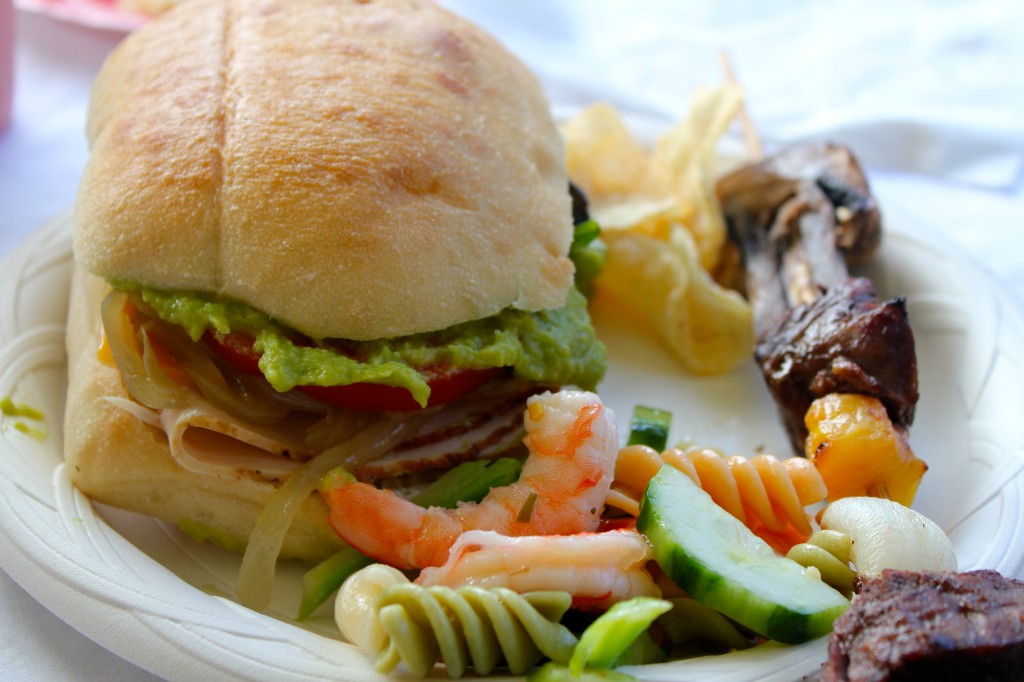 The Red Velvet Cupcakes and mini birthday cake were made by my sister.  They were yummy!  I found pink and pink swirled cupcake liners as well as adorable strawberry cupcake toppers at a shop called Catalu on etsy.  The cupcake toppers really added to the dessert table which also included some chocolate chip cookies, chocolate muffins, pumpkin scones, jello, and individual strawberry dump cakes.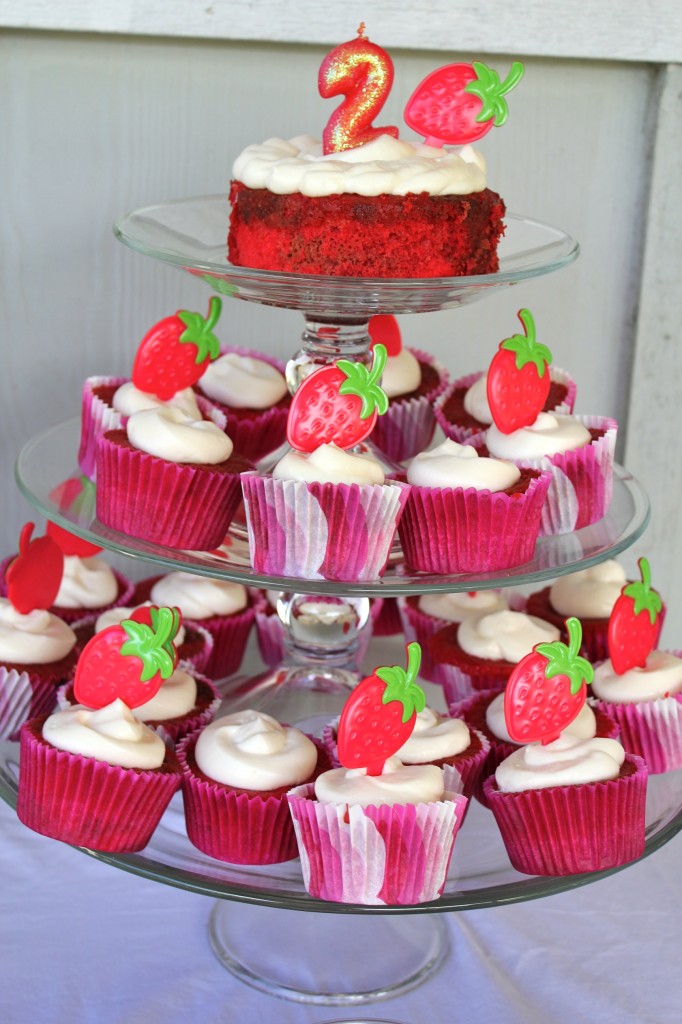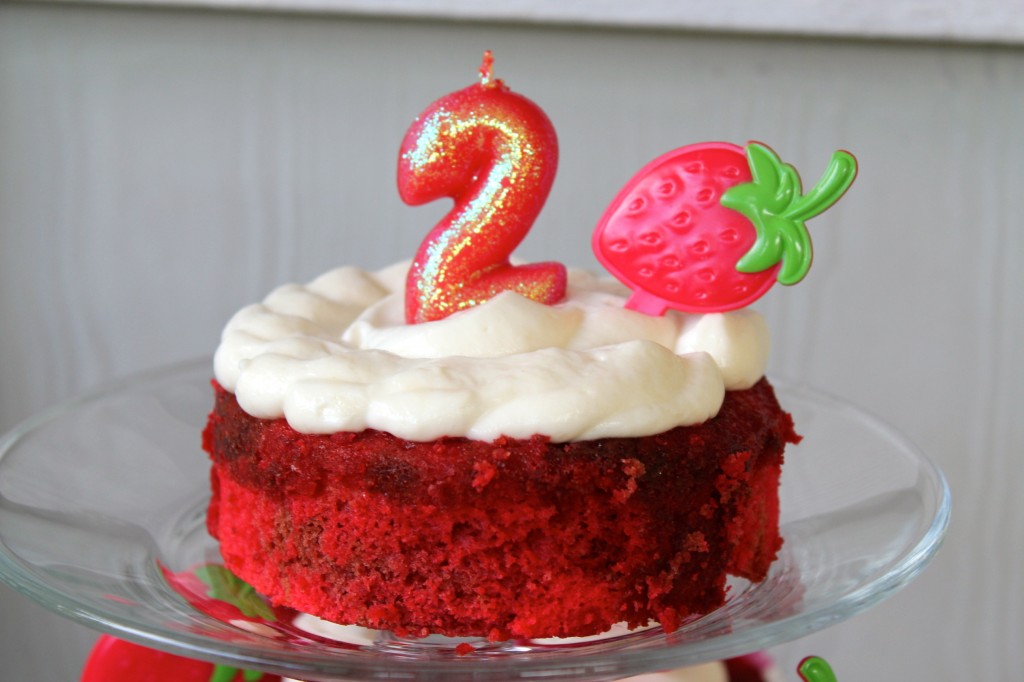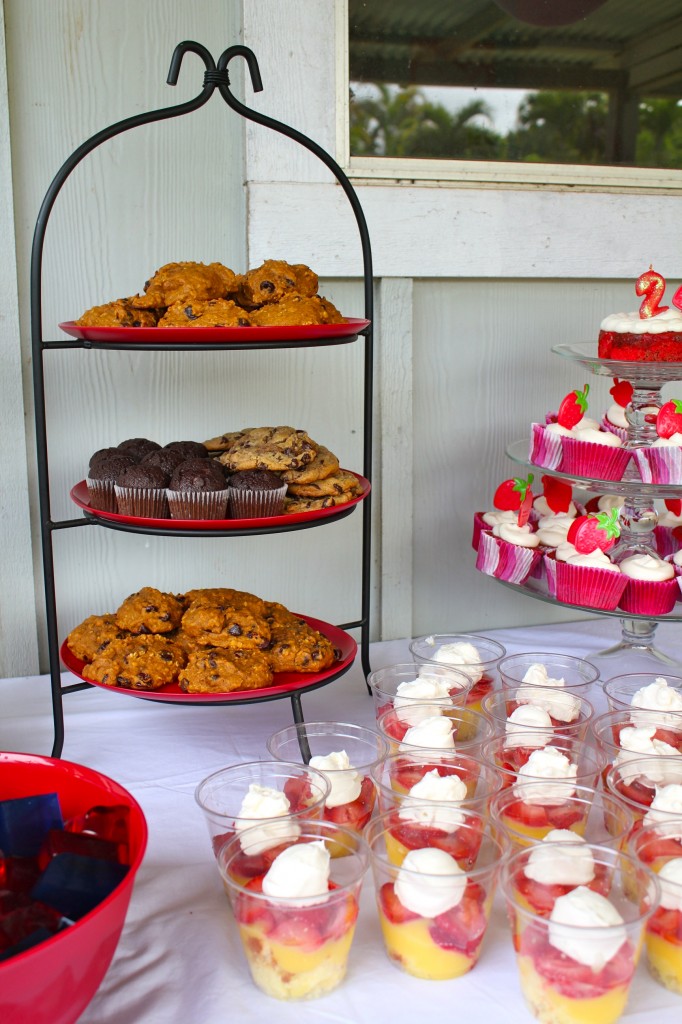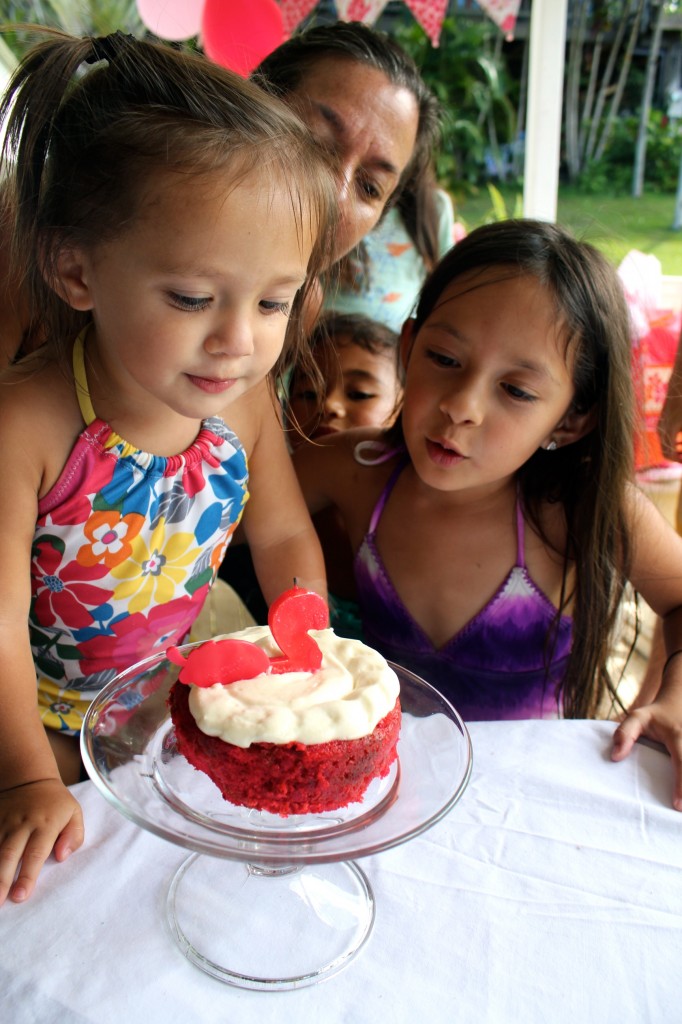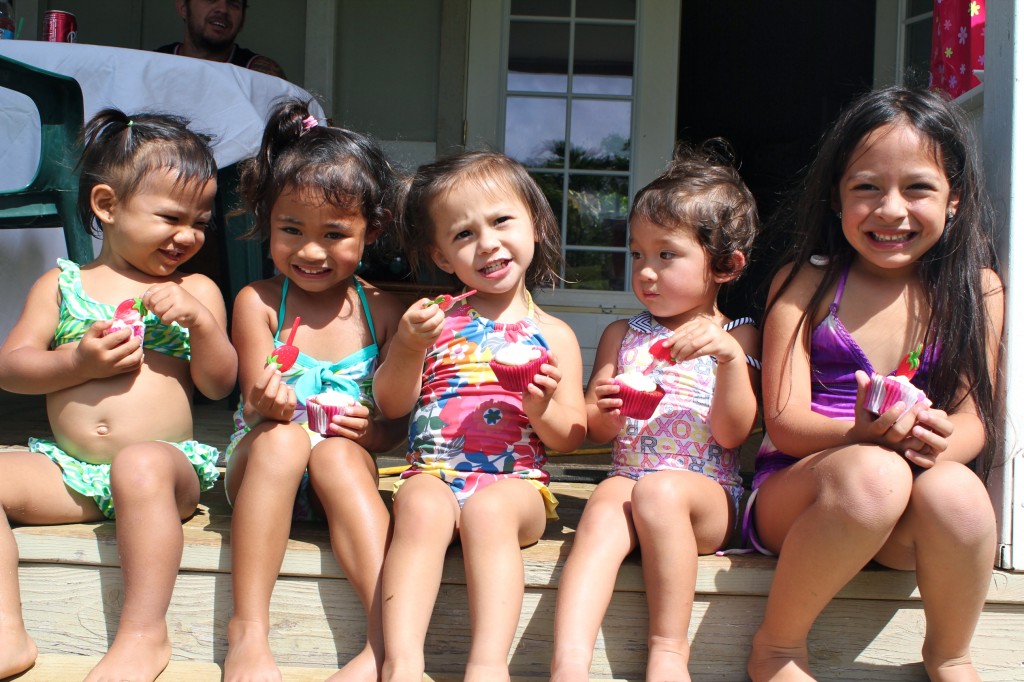 The weather turned out perfect for some water play.  In the early morning hours, it rained and I was so worried it wouldn't clear up, but it did, and it turned into a beautiful day full of sunshine! We set up a pool, a fun water play area, the Radio Flyer Coaster, and a tub full of water balloons.  Before the party ended the kids also had a shot at the piñata that was filled with some healthy snacks, and a few other fun surprises.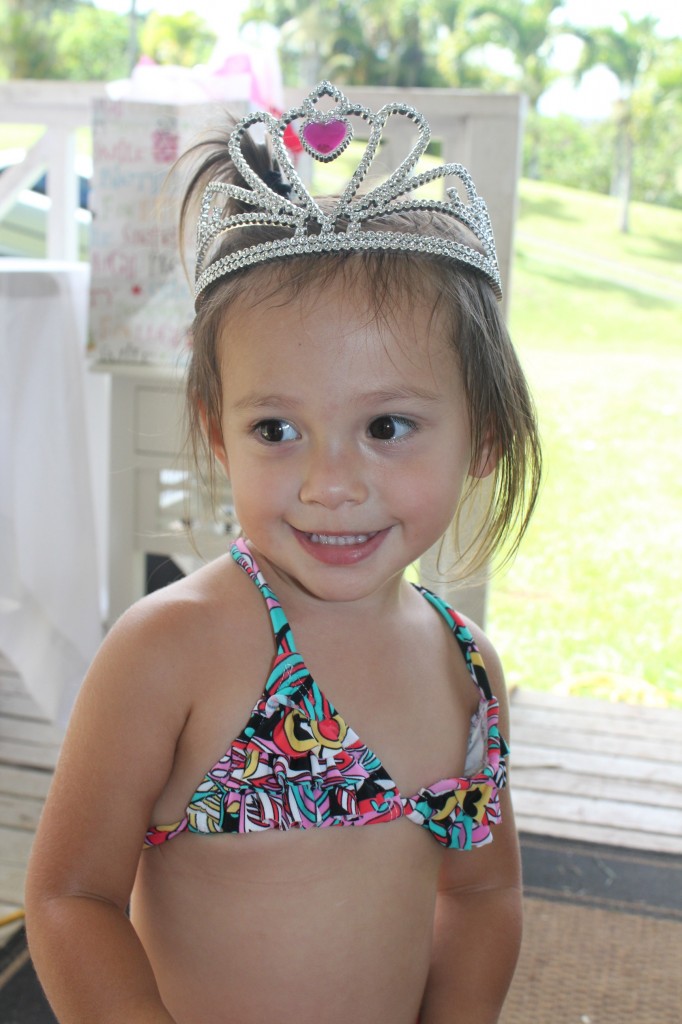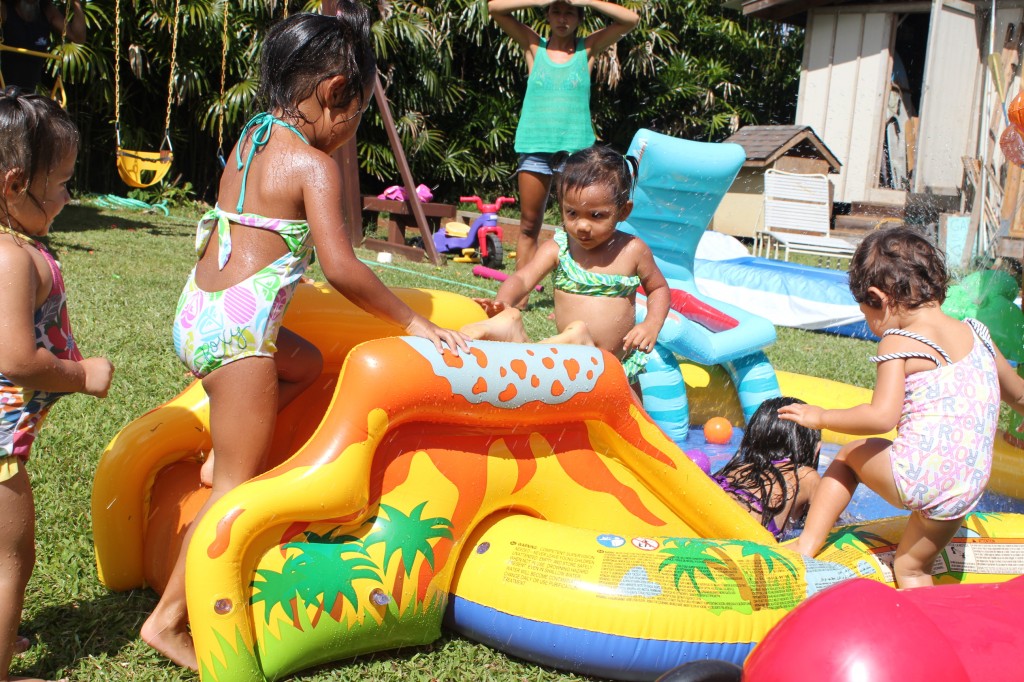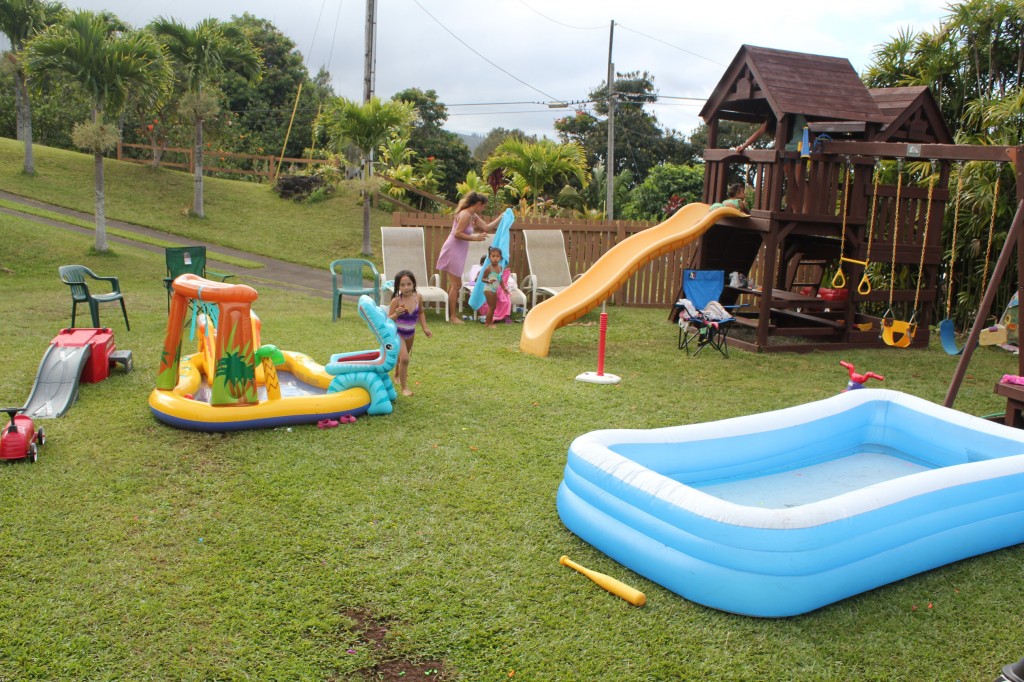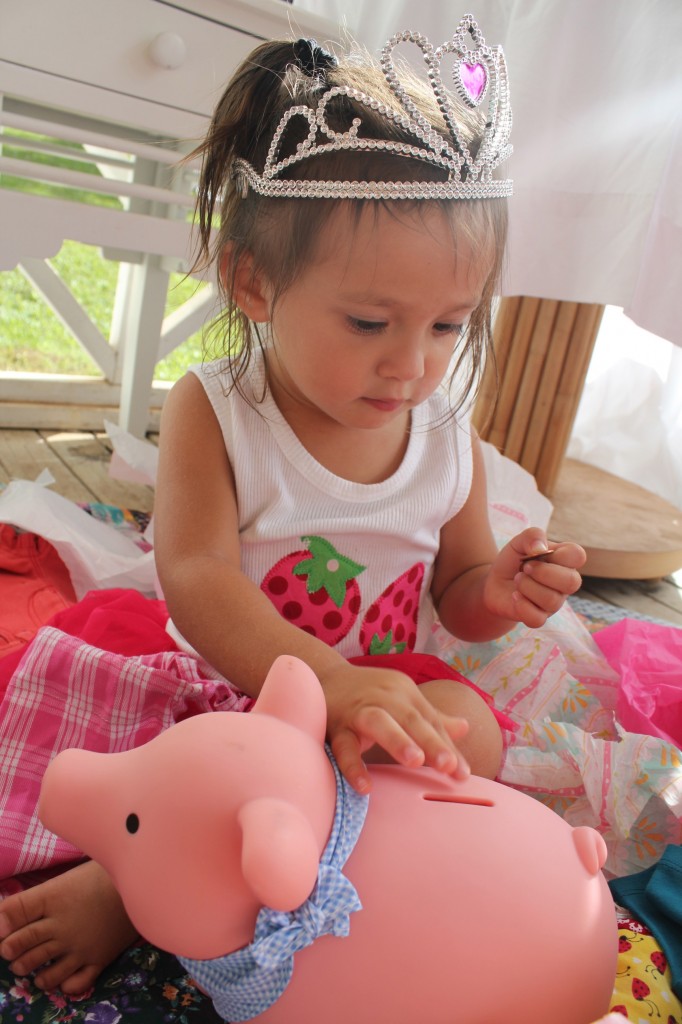 Altogether it was a wonderful day.  The kids really enjoyed themselves and so did I.  Putting together a party is never easy, but I always enjoy doing it, and I'm glad I did.  Now to start getting ideas for my older daughters 6th birthday coming up in January.
More Parties You May Enjoy
Nautical Themed Welcome Baby Party
Ice Cream Themed Birthday Party
DisneySide Mickey & Friends Party